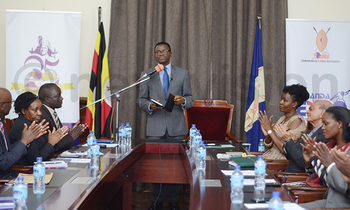 Katikkiro Peter Mayiga addresses members of the Buganda Heritage and Tourism Board at the launch of the carnival Bulange, Mengo. Photo by Badru Katumba
The Katikiiro of Buganda, Charles Peter Mayiga, has disclosed that the kingdom is set to hold its first ever carnival at the Royal Mile road in Mengo, Kampala.
Mayiga said that this will be the climax of the week-long Buganda Tourism Expo that is expected to run from June 24 to July 1.
"Kabaka Ronald Muwenda Mutebi has accepted to launch the monuments at the Royal Mile road and also close the expo that will be peaked with a carnival," he explained.
During the launch of this year's expo at Bulange in Mengo, Mayiga said the event is part of the activities to mark the Kabaka's 25th coronation anniversary.
The expo will be held under the theme Re-Discover the Gateway to the Pearl of Africa.
He explained that the festival is aimed at preserving the history and tradition of the kingdom and strives to stimulate the local economy, entertain and involve the community and visitors, in a fun filled atmosphere.
"The street party is expected to draw multitudes to Mengo to celebrate culture, innovation, unity and social life," he noted.
The kingdom's tourism minister, Rita Namyalo, said that the carnival will be a moment for revellers to share, learn and network, while acting as an economic engine for companies, organisations and small businesses to flourish.
"Every year Mengo will host flamboyant sights, vibrant sounds and lively rhythms, in concert with an array of floats winding through the streets with dancers on show, as they spin, whirl and twirl to mesmeric beats of celebration along the festival route," she explained.
She added that along with savoury aromas of food and drinks at disposal, there will be artists of diverse genres entertaining the locals at no cost.
The tourism expo will host educational trainings on research, agriculture, co-operatives and the environment among others.
Other activities will be an art challenge for university students across the country; a section that will showcase the history of Buganda and Uganda.
There will also be a children's cultural village where diverse cultures will be showcased.