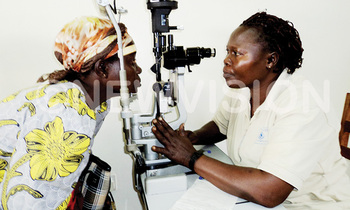 DIABETIC EYE INFECTIONS
Diabetic retinal eye infections are on the rise among the patients of diabetes prompting reaction and advice from the experts.
The medic experts attribute this to the failure by many people to seek both diabetes and eyes screening services.
Dr Grace Ssali, an eye specialist at Mulago Hospital said the most common infection is diabetic retinopathy. Many people tested positive with the infection during a medical camp organised by the Lions of Uganda at the City Square in Kampala.
Dr Ssali said many people are unaware of their condition because screening services are expensive and not available in many areas. She added that all people suffering from diabetes are highly at risk of suffering diabetic retinopathy. She explained that high blood sugar levels and high blood pressure alter the lipid profile and damage small vessels (Capilaries) of the retina (photosensitive layer of eyes). As a result, the fluid leaks through the damaged vessels in the retina, which leads to diminished eyes vision.
According to Ssali, the problem can only be detected through regular screening of the retina. She emphasised that early diagnosis can help in preventing progression of the disease by timely treatment.
The Kampala Central division mayor, Charles Sserunjongi Musoke, lauded the humanitarian and voluntary health services of the Lions to the People of Kampala. He urged the people of Kampala to prioritise healthy living by regularly carrying out medical checkups.