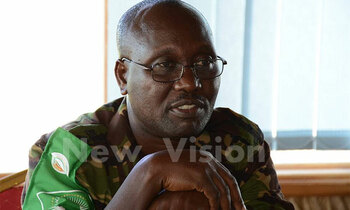 (All photos by Eddie Ssejjoba)

TERRORISM

MOGADISHU - Al-Shabaab is downgraded but still remains a menace to general security in Somalia, the AMISOM spokesperson, Lt. Col. Richard Nyabuti Omwega, has said.

He said the militant group is using improvised explosive devices and abrupt attacks.

Omwega told journalists at Leaf Camp Hotel in the Somali capital Mogadishu on Monday that the Al-Shabaab militants are still a big challenge since they are embedded within the local population and difficult to deal with.

He, however, said AMISOM had achieved a lot since it took over the mandate to restore peace in the war-torn country, including reinstating a government base in Mogadishu and maintaining security in regional federal governments with sitting presidents.

After the press briefing, Omwega embarked on a tour of several areas where UPDF have bases.
Working with partners like European Union, African Union, UNSOM, UNMAS and others, AMISOM has opened up key road networks to facilitate movements to regional states, enabled schools, health centres and other institutions to open up and give services.

Each troop-contributing country will continue to reduce its force up to 2021 when they are expected to make a final withdrawal, according to the UNSC resolution. AMISOM will then prepare to hand over to the Somalia National Army, which is expected to take over the mandate to stabilise the Horn of Africa.

But all this is condition-based that there will be well trained security agencies with capacity to manage security so that gains achieved are not wasted.
The AMISOM spokesperson added that conditions on the ground will determine whether AMISOM will have pulled out by that time.

He said there were 21,000 personnel under AMISOM from Uganda, Kenya, Ethiopia, Burundi, Djibouti and other staff from Ghana, Egypt, Nigeria, Zimbabwe, Sierra Leon and others.

"There are certain areas where EU wants us to hand over, but the local government army ask us how we are going to protect them after we hand over, which is still a challenge."

His deputy, Major Ceaser Olweny Okello from Uganda, said the UPDF had the biggest area to cover in terms of kilometres and guarding the most important installations, including embassies, AMISOM headquarters, hotels and other places.

He said the army was making the biggest sacrifices, operating in difficult conditions.