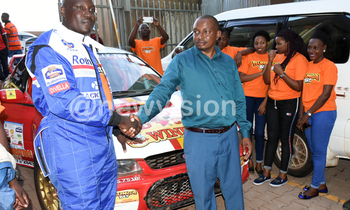 Rally driver Happy Richards will compete favourably in the Tarvan kick SMC Masaka rally without hurting his pockets.

This is after the driver navigated by Steven Bunya in Subaru GC8 received a sponsorship package worth sh3m from Bunga Bet, ahead of the two day event in Masaka on Saturday and Sunday.

"I'm delighted that I got this support and I will make sure I complete the event and in a better position than in the previous events," Richards said.

"Bunga Bet is going to cater for my fuel and also my mechanic crew on top of their facilitation."

The company CEO, Prosper Tuhaise said his company is supporting Richards because of his talent.