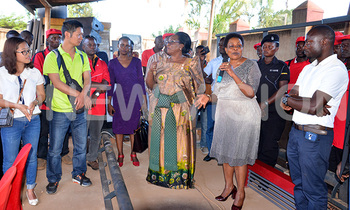 Kampala Minister Beti Olive Kamya has urged female youth to form groups and benefit from the youth livelihood fund.
Speaking to youth in Rubaga Division on Wednesday, Kamya said there is no reason why women should not benefit from the fund like their male counterparts.
"I have been told that there is money specifically for women at the gender ministry. Form groups of 10 to 12 people and I will lead you to access it," she said.
Kamya also asked the youth to get involved in income generating activities, arguing that there is nothing as demeaning as being jobless and a beggar.
She was meeting members of Njumba youth group in Rubaga Division and Kampala Central who are currently acquiring skills for making trollies and cubicles used in hospitals.
The youth, under their association are beneficiaries of a partnership between Kampala Capital City Authority (KCCA) and a Chinese firm Guangzhou Huasheng Metal Materials Co., Lit.
Through the partnership, officials from the Chinese firm are equipping them with fabrication skills in a bid to the address the rampant youth unemployment.
The youth who began their training recently also unveiled some of their products before Kamya.
The coordinator of the youth groups, Farook Mujumba said the skills which the youth acquire help them dodge crime and politicians who used to exploit them.
"We are tired of fighting street battles with Police and that is why we are here working," Mujumba said.
He asked KCCA to continue availing youth with opportunities to acquire skills than providing them with handouts that last for a very short period of time.
Majority of the youth undergoing training are former street children, and roadside vendors who were thrown off the streets recently.
Mujumba said at the end of the training, the youth will be able to make a number of items.
Joyce Nabbosa Sebugwawo, the Mayor of Rubaga urged the youth not to ignore chances of acquiring skills.
Sebugwawo said there are no enough white collar jobs. "Please don't also think of shortcuts in life because they will ruin your lives," Sebugwawo added.