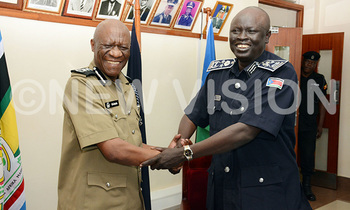 PIC: The Inspector General of Police, Martin Okoth-Ochola (left) chatting with his counterpart from South Sudan, Gen Majak Akec Malok at Uganda Police headquarters in Naguru on April 25, 2018. Photos by Eddie Ssejjoba

The Inspector General of Police (IGP) of the South Sudan National Police Service (SSNPS) has assured Ugandans that there is peace in Juba as their country gets close to stability.

He said currently there is no sound of a gun heard in the capital city, after the nationals realized that killing each other would not take them anywhere.

"In Juba stability is progressing and we are working to implement the peace agreement, our people have come to know that there is no reason to kill ourselves," he stated.

Gen Majak was Wednesday speaking in a meeting of senior police officers from both South Sudan and Uganda at the Uganda Police headquarters in Naguru, Kampala.

The Ugandan team was led by the IGP, Martin Okoth-Ochola for a three-day bilateral discussion on various issues which include: training of the SSNPF personnel by Uganda in counter-terrorism and counter-intelligence, cross boundary crime, and supply of uniforms, among others.

Gen Majak said that their major interests rotate around sharing information on issues related to human trafficking, organized crime, counter-terrorism, money laundering, training and capacity building .

He also appealed to Uganda to treat with urgency their request for uniforms, stressing that his personnel 'were almost naked', having spent four years without accessing the outfits.

"Our people are actually naked, we have been engaged in war and we have not had uniforms for the last four years, you cannot therefore identify a police officer without a uniform," he said.

The South Sudanese team were also interested in discussing the security management of the Kampala-Gulu-Nimule-Juba highway, which he said was prone to periodic attacks by criminals referring to themselves as 'In-Opposition'.

"These criminals have attacked our people, both from our country and Uganda and we need to find means of protecting them," he said.
IGP Ochola told the meeting that the only way for Uganda and South Sudan to win over criminals and combat trans-national organized crime is through cohesion and sharing information between law enforcement agencies.

According to him, problems faced by the two forces were not different and therefore the need to work together to deal with them.

The two institutions, according to Ochola, have had a healthy working relationship that was concreted through a Memorandum of Understanding, which he said should be renewed. He gave an example where Uganda has trained 80 cadet officers from South Sudan and were willing to continue collaborating in training, sharing intelligence and other areas.

The meeting was attended by the deputy IGP, Brig. Sabiiti Mzeei.