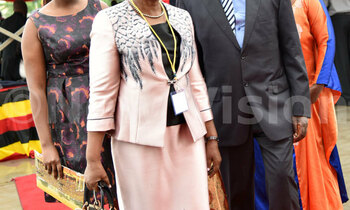 Ntungamo Woman MP Beatrice Rwakimari (Centre) called on the youth and women in the district to put the funds to good use to improve district performance in the area. (File photo)

By Rwambuka Mugisha

NTUNGAMO - The youth and women in Ntungamo district have been warned against misusing the funds given to them under the Youth Livelihood Programme (YLP) and Uganda Women Entrepreneurship Programme (UWEP).

This issue came up for mention during the Ntungamo district stakeholders meeting the district council hall.

The call followed reports that the some youth leaders in Ntungamo, including the district councillor for, Itojo Denis Savimbi, forged groups and took away goats, pigs and funds and ate them.

Ntungamo Woman MP Beatrice Rwakimari, who chaired the meeting, noted that the district was performing poorly in the YLP and UWEP because of misuse of funds in the last financial year.

Rwakimari noted that Ntungamo district was going to get 1.5b in the 2018/19 financial year for the YLP and UWEP programmes and called on concerned parties to use the money appropriately.

The district leaders were pointed at as the trouble-causers because of their constant clashes. They were blamed for returning sh70m to the gender ministry last year for not being used.

The Ntungamo district chief administrative officer Kweyamba-Ruhemba promised to deal with the corrupt community development officers (CDOs) at the sub-counties and those in charge of the YLP and UWEP funds at the district level.

The Ruhaama county MP, Moses Kahima, said he would tolerate corruption in his constituency because the youth and women funds should not be swindled.