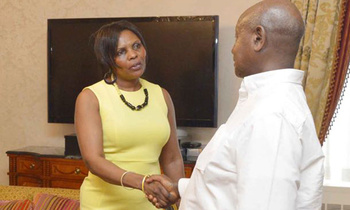 PIC: President Yoweri Museveni shakes hands with Florence Kiremerwa, special presidential assistant on diaspora issues. Photo/File

Ugandans living in Nordic countries have got an opportunity to save time and money which they would have spent travelling to and from Uganda to register for dual citizenship.

The government has sent a delegation led by Citizenship and Immigration Control board chairman, Maj Gen (rtd) Emilio Mondo to Denmark and Sweden to sensitise and offer services to Ugandans in Europe.

According to a statement signed by Florence Kiremerwa, the special presidential assistant on diaspora issues, the five-day diaspora awareness workshop in the Nordic countries will kick-off on Monday 23 to Friday April, 27.

At the workshop, the Ministry of Internal affairs will register Ugandans for dual citizenship or E-visa and will offer certificates in one day.

"The requirements include: proof of being a Ugandan, an old Ugandan passport, two passport photos, and a money order of $400," reads the statement .

Kiremerwa has advised Ugandans in the diaspora especially those who own land to take advantage of acquiring dual citizenship, noting that it helps them feel at home whenever they come back.

"The dual citizenship process is tiresome in Uganda, so use the chance whenever the services are brought near you. That is why President Yoweri Museveni created this office headed by the Special Presidential Assistant on Diaspora Issues and service delivery is our number one priority," she said.

Schedule


Also at the workshop that targets Ugandans in Denmark, Sweden, Finland, Netherlands and London UK, Bank of Uganda (BOU) will sensitize the diaspora on the importance of investing in Bonds.

Last year, over 200 Ugandans in London-UK, Massachusetts and Miami United States of America received dual citizenship and some had their land titles verified by respective government agencies in a drive by the Ugandan mission to bring services closer to the citizens in the diaspora.

Kiremerwa who heads this campaign says eventually the embassies' staff will be trained to offer these services in the near future.