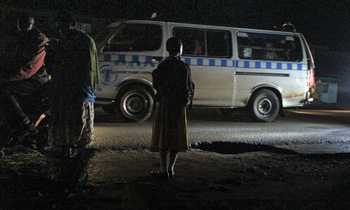 On February 16, 2018, 14-year-old Caroline Najuma left her sister's home in Busega in the wee hours of the morning.
She was given fare to board a vehicle to Mukono District, where she was supposed join a school for her Senior One. She never reached her destination.

"That same evening her parents called her sister Sylvia Namaku to inquire about her whereabouts. They had not seen her despite the fact that she had called them to tell them she was reporting to school on the fateful day," Lukas Owoyesigire the Kampala Metropolitan Police Spokesperson told Saturday Vision.

What began as an ordinary disappearance has turned into pain and suffering for the family. Efforts by her family members, police and friends to trace her whereabouts have yielded no results - to date.

Her mysterious disappearance continues to haunt the family almost three months later. The family's relentless search in relatives homes, hospitals and far-flung towns have been in vain.
Children going to school before day break. Photos by Roderick Ahimbazwe
Similarly on August 9, 2013, 14-year-old Okello Eric Otellu, a Senior 1 student at Kyambogo College was kidnapped by unknown men reportedly driving a black Government car as he approached school. The students were seating their end of year examination and Okello wanted to be at school early so that he could revise for that day's paper.

"He was studying with his brother and they usually left home together in the morning. They left earlier at around 5:00 a.m and I did not see them. On this particular day, his elder brother was slightly ahead of him since he had an earlier paper," says his father Otellu Patrick an employee of Mulago hospital.
According to eye witnesses as he approached Wamala hostel in Kyambogo, a speeding black pajero car with red Government registered number plates pulled by the side and some strange men alighted from the car.

They immediately shoved him in the car and drove off.

It has been an agonizing five year search for the family and friends. His father says the family has been forced to give up all their savings to finance the fruitless search of their son. They have placed announcements on the radio, printed notices with his pictures accompanied by appeal messages and distributed these in schools and churches. In vain.

The family has not given up the search even though the process has been painstakingly slow. In an interview with the Sunday Vision, Otellu's parents told Sunday Vision that they are hopeful they will one day see their son.

Owoyesigire noted that they had received some complaints about missing children kidnapped on their way to school. on the case of Najjuma, he says: " case is reported at Natete Police Division and we are investigating it," Owoyesigire noted.
Children going to school . This early morning walk is very dangerous and exposes them to kidnappers
He also noted that as police it was hard to try and force parents to accompany their children to school or to the bus park to board vehicles to school during the acceptable time set out by the Ministry of educations.
"This responsibility starts with the Ministry of Education which should clearly set out the time and them each individual parents should have responsibility of ensuring children are not left to get out of the compound unattended to," Owoyesigire said.

His concerns come at a time when the hearing of a case in which a school bus driver in Kampala is accused of abusing a four-year-old girl is under way at Makindye Chief Magistrates Court.

Musa Matovu, 44, a driver at Mild Care Parents Primary school in Munyonyo is accused of defiling the pupil (names withheld), as he was dropping her off back home. The incident reportedly happened at 6:00pm on February 15, 2017.

It is alleged that there was no female staff on board when the incident happened. The family claims that they only suspected that something was wrong when the girl reportedly screamed in pain while taking a bath; suspicions that were confirmed later on at a medical facility. The case, investigated by the Criminal Investigative Division at Katwe Police Station was registered under the file number SD REF/07/08/02/2017.

The CID boss at Katwe Fred Eriku could not reveal details of the case for fear of contempt of court. He, however, confirmed that the driver had been charged with aggravated defilement.

Early birds
The cases raise questions on just how safe children are on their to school. Sunday Vision investigations show that schoolchildren are on the road - unaccompanied - by 5:00am.

For most upmarket schools in Kampala and Wasiko districts, shuttles are picking children from their homes at 4:30am - nearly three hours before the sunrise. Community dwellers tell of the shuttles serving as their wake up calls in the wee hours of the morning.

"When my neighbour's child's van hoots, I know I have about half an hour to catch some sleep before I wake up," says a proprietor of a restaurant in Mutungo, a Kampala Suburb.

"We do not need the rooster to crow or the alarm at 5:00am. By that time, the vehicle and the footsteps of children running have already woken you up."

The drivers of the schools have a routine list showing each child's location before they embark on the journey. "I leave the school at 4:00am and I start with the child who stays furthest. The earlier the better, because you have so many children in different suburbs," says a driver on condition of anonymity.

Sunday Vision sent out a team of photographers on a random school day. The pictures are telling: children walking to school unaccompanied through deserted and dark streets.

Some children walk alone, which makes it more risky
On the streets randomly sampled Kampala, Wakiso and Mukono districts, our cameraman spotted children school uniforms. Innocence knows no shame. They smiled at the cameras.

While some children were pictured moving in groups of twos and threes, our cameras also captured a disturbing image of a lone pupil, perhaps no less than eight, walking along the dim Bombo Road in Kampala at about 5:30am.

Another haunting sight is that of a boy and a girl, probably siblings, at the Kalerwe-Mawanda junction taxi stage , ready to jump on an evidently empty commuter taxi. On an ordinary hour, this section of the city is crammed with vendors and pickpockets.

A two-way blame game
Whether it is by a shuttle or foot, the fact is that many children are leaving home way before their parents even wake up.

The reasons are debatable. On one hand are schools beginning classes as early as 6:00am, on other are busy parents accused of relegating responsibility.

Despite the ministry of education directive that classes much begin at 8:00am, our investigations reveal that some schools have been defiant.

At Hormisdallen Primary School, Kamwokya where classes begin at 6:00am, day scholars who report at 8:00am are touted as latecomers by peers and teachers. The head teacher Cephas Kamya, says with 85% of his pupils being boarders, and therefore expects the 15% of the day scholars to fit into the timetable for the majority.
When Sunday Vision visited the school, the pupils were at class by 6 a.m. The schools which has a single bus had started picking the day scholars by 4 a.m, while some parents could be seen dropping of their kids as early as 5:30 a.m.

In an interview with Sunday Vision, Kamya argued that even though the Ministry had issued a directive on classes starting at 8 a.m., it did not mention what time the boarders would start their lessons.

"Our children especially those in the boarding section are in class by 6 a.m. and this is to enable them revise their notes. The day scholars are supposed to be in school early enough in order for them not to miss out in revision," Kamya noted.

At Sir Apollo Kagwa, Mengo campus, the head teacher, Elidad Kafeero says the early bird catches the worm. "You pay the price of traffic jam if you wake up late. We do not have the school van, so most parents send their children as early as possible so that they do not miss the morning classes," says Kafeero.
Some parents accompany their children to school, while others just send them alone
However, some school authorities especially blame busy parents.

"We begin classes at 8:00am but parents send their children as so early because they have to go to work. A mother is a vendor who has to catch the early sale. You find the children sitting at the gate by 5:30am. Do you leave them in the cold or chase them back home? We open the classes for them!" says senior teacher at Buganda Road Primary school. It was the similar argument given at other public schools such Nakasero and Bat Valley Primary school.

Martin Isagara, the head teacher of City Parents, Lubaga also says: "We encourage parents to be at school by 7:45am because we do not want to teach sleepy children. But we have children who come all the way from Entebbe to Kampala and I assume they wake up at 5:00am to arrive early. We insist that those must be strictly be dropped off by their parents for safety reasons."

At All Saints Junior School, where two school buses are dispatched by 5:00am, the director Geoffrey Banyana says they deem it their responsibility to pick the children at that time.

"It is a mutual arrangement. Most of the parents who pay for the school vans are those who are unable to transport and pick their children from school. So we offer the service," says Banyana.

THE ACADEMIC RAT RACE
Whichever reasons the schools give, analysts argue that the early morning school rides and walks are part of the academic rat race - where children are being pushed to score high grades.

"This is part of the drilling to get Aggregate 4. It begins in P1. The schools begin drumming it into the kids' heads as early as possible. So you must be at school at dawn, cram as much as you can by dusk," says Elizabeth Musoke, a sociologist at the St. Catherine Youth Entrepreneurship Center in Wakiso.

On a normal school day, Marvin, 7, wakes up at 5:00am despite to the fact that he will go to bed at about 10:00pm. That is six hours of sleep, contrary to the medically recommended eight to nine hours of sleep.

"I have to do homework daily," laments Marvin.

Parents too are stressed. "MY children are always sleeping on their way to and from school. The teachers complain if they do not reach school in time. They pile them with more homework, which you must sign and supervise. It is crazy," says Dr. Joshua Magezi, a father of two.

In some of the schools visited like Hormisdallen the P.1 pupils were still class at 4 p.m. and Kamya noted they were forced to keep them in class because of busy parents.

"We have cases of parents who don't have maids at home and prefer to keep them at school. We also have no option but keep them in class," Kamya said but argued that those in lower classes are only kept in the classroom without being taught.

But the risks of being on the road when it is dark are enormous.

"If they are using the school van, is the matron on board? What happens between the time they leave home and get to class? Can you trust the driver or the taxi they are in? Parents assume that when the child is on the bus, it is the responsibility of the school. But do school owners have a checklist of the people they hire?" CID's Eriku cautions.
Children who use public means have to wait for taxis at stages
Besides the risk of being kidnapped or defiled on their way to school Dr. Sheila Ndyanabangyi, the principal medical officer in charge of mental health at the health ministry says in the long term the children will hate school.
"At 4.30am, children should be sleeping. School should be a balance of fun and study. That is why some of them, as they grow up, they simply become unruly want to drop out. They will not stand the fatigue and harassment for too long," says Ndyanabangyi saying that children should sleep for at least nine hours.

Daniel Nkaada the commissioner Pre-primary and Primary Education agrees that children are likely not to perform well since they become stressed and become prone to sickness.

Beatrice Langariti, a psychologist, says early morning walks and rides, coupled with early morning classes are unnecessary for the children since their brains are still growing and require enough sleep.

''When children do not get enough sleep they are prone to getting mental issues. They are more likely to become irritable and can get learning challenges,'' she explains.

Hope Nankunda, a counselor and Team Leader at Raising Teenagers Uganda agrees: "If a child constantly worries about waking up early and they are affected. There is no urgency for children in lower classes be at school by 6:00am because whatever is learnt at that time can be understood at 8:00am."
A boy looks tired even as he waits for a taxi to take him to school
Education ministry
Higher education minister, Dr. Chrysostom Muyingo says the issues school hours and school transportation were discussed in a recent multi-sector meeting, which was chaired by the education minister Janet Museveni.

The meeting, he discloses, sought to engage stakeholders and line ministries to ensure that the education guidelines are adhered to.

Muyingo stated that while the ministry has no control over what time the child wakes up; schools and families must adhere to the 8:00am - 5:00pm opening hours.

"Our emphasis is that children with or without traffic, children must be brought up in a healthy environment and where they are safe. They need to have enough sleep. Why should we torture children? Why should we have children on the road at an awkward hour?" wonders Muyingo

He asks why parents must allow children to be on the road for long hours to school when there are many options.

"Parents' school selection decisions influence child travel. This business of bringing children all the way from Mukono to Kampala Parents because they think it is the best should be discouraged. There are so many good schools in our communities. The government has also set up so many schools all over the country," says Muyingo.

On the school shuttles, he added: "Children are being ferried on lorries and ramshackle shuttles, which has resulted into needless accidents and loss of lives. We agreed that the Police and Internal affairs ministry helps us ensure that the buses meet the standards."