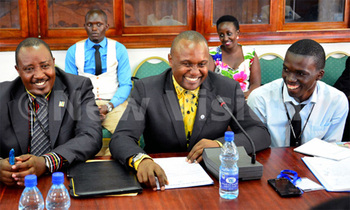 The Uganda Medical Association has opposed the move by government to recruit specialist and consultant doctors from Cuba. These are to be paid up sh5m way above their local counterparts.

According to a statement to the parliamentary committee on health signed by the Association's chairperson, Dr Ekwaro Obuku, 'the current conditions in Uganda today do not warrant this move'.

Uganda according to the statement has over 1500 specialist doctors registered with the Uganda Medical and Dental Practitioners Council and the country graduates over 150 specialist doctors annually.

"The comprehensive cost of importing Cuban doctors is likely to outweigh benefits with such other additional costs as housing, transport, salary, and security. Further the language barrier creates the need for nurses and midwives as interpreter, which removes them from the core lifesaving duties to merely facilitate communication," reads the statement.

The statement also highlights that currently, a total of 530 specialist doctors are in training at five universities in the country. "Over 150 subspecialists have been sent to India, Canada, USA and Italy."

While presenting to the same committee yesterday, the Minister of Public Service revealed that government was in advanced stages of recruiting specialist and consultant doctors from Cuba.

As reported in the New Vision, a delegation from Uganda had just returned from Cuba to negotiate the terms of the arrangement according to the Minister. This he said was a result of the industrial action by medics that rocked the country late last year.

Each doctor according to the Minister who was flanked by the State Minister for health, Sarah Opendi, will be paid $1500 about(sh5m).

According to Sarah Opendi, the biggest challenge the Ministry was facing was attracting and retaining Ugandan doctors.

"We have very good doctors, but our biggest challenge is attracting and retaining them. Even with salary enhancements, they do not want to work upcountry," the Minister reportedly argued.

Government recently released salary enhancement structure for civil servants that saw medics make big leaps in terms of pay. Consultants under the new structure will earn sh4.2m up from the current sh2.6m.

According to the medics, the new salary structure, increased budget allocation to NMS and reduced harassment by the Health Monitoring Unit, there is likely to be increased retention of specialist doctors in hospitals upcountry.

"We therefore appeal to government to immediately advertise 500 posts for specialist doctors (with terms offered to Cubans) in the regional, district and rural hospitals across the country and we pledge to mobilise Ugandan doctors to fill these up," reads the statement from the Uganda Medical Association.