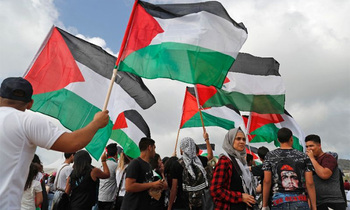 PIC: Palestinian and Arab Israeli protesters wave Palestinian flags as they march for the right of return for Palestinian refugees who fled their homes or were expelled during the 1948 war that accompanied the creation of the state of Israel. (AFP)

ISRAEL - Thousands of Israeli Arabs rallied Thursday near the northern city of Haifa in a protest on the 70th anniversary of Israeli statehood, seen by Palestinians as a catastrophe, or Nakba in Arabic.

Under the slogan "Your Independence Day is the day of our Nakba," they gathered in the town of Atlit, about 12 kilometres (seven miles) south of Haifa.

Palestinians say that the 174 residents of an Arab village at the site were forced out by Israel in the war that accompanied its foundation in 1948, leaving only an Islamic cemetery.

An Israeli town of the same name now stands there.

Demonstrators carried Palestinian flags and called for the right of refugees to return to the homes that their families fled or were expelled from in 1948.

Demonstrators said they would not give up the refugees' "right of return".

The United Nations supported that right in a 1948 resolution, but it has never been implemented.

"I am an Arab and I want to preserve my culture and identity regardless of the name of the country," said 21-year-old Wassal Kanana.

Israel says an influx of millions of Palestinian refugees and their descendants to their historic homeland would destroy the concept of a Jewish state, which was established on May 14.

On Thursday, Israel celebrated the anniversary of Israel's founding according to the Hebrew calendar.

Israeli warplanes staged aerial displays over Haifa and other major cities.

Arab Israelis are descendants of Palestinians who remained on their land following the creation of Israel.

Today they account for some 17.5 percent of Israel's population and complain of discrimination, especially in the areas of jobs and housing.