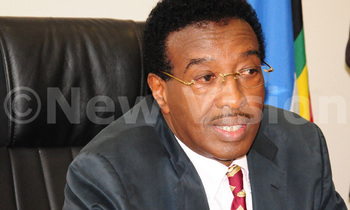 PIC: Rukungiri district NRM chairperson Jim Muhwezi has called a meeting to hear out the girievances of NRM leaders over the President's donations

PRESIDENTIAL DONATIONS

RUKUNGIRI - The Rukungiri district NRM chairperson, Jim Muhwezi, has called NRM leaders meeting to discuss the President's visit to the district on Sunday and the donations he gave to different groups.

President Yoweri Museveni donated items that included cars, tractors, bodabodas and liquid cash, among others.

It was reported that the donations left people of Rukungiri, especially the NRM highly divided, with majority of them threatening to defect to the Opposition.

They claim they have worked for NRM for long, but have got no rewards, yet new recruits were rewarded.

It was also alleged that most groups that were given hard cash had members torn between sharing the money among themselves and starting a Savings and Credit Co-operative Society so that they can lend out money at a small interest.

The district resident district commissioner, Martin Mugabe, admitted that some group members were fighting to get their share and take it to bar for waragi.

"Yes, there are some misunderstandings in some groups and at least three people have been arrested over fist fights," he said.

Mugabe, however, denied allegations that some groups had already sold their donations.

"We have called a meeting for the beneficiary groups so that we give them guidance on the use of the items. We shall also keep monitoring them to ensure that they make the most from the donations," he said.

Muhwezi, after making his opening remarks at the meeting that was held at Hotel Riverside, sent out journalists to "allow members deliberate freely".

The meeting attracted over 600 participants, some of whom are not leaders, but concerned NRM supporters, who were not happy with the distribution of the donations.

Among those who skipped the meeting were Robert Tukamuhebwa, the publicity secretary, who was in charge of registering the groups that benefited from President's donation. , did not attend the meeting as members were accusing him of being segregative.