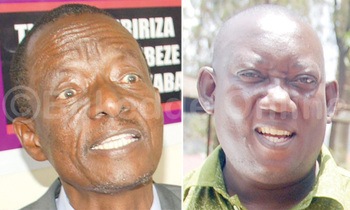 PIC: Lukyamuzi is frustrated by the time the election petition against MP Kato Lubwama has taken, and has therefore petitioned the deputy Chief Justice to expedite the case

ELECTION PETITION

KAMPALA - The former Rubaga South MP, John Ken Lukyamuzi, has petitioned the deputy Chief Justice (DCJ) Alfonse Owiny-Dollo, over delayed disposal of an election petition against MP Kato Lubwama.

In a letter dated April 11, to Owiny-Dollo, Lukyamuzi, also the Conservative Party president, says his party is interested in the case and requested that the DCJ fast-tracks it.

Lukyamuzi's letter was delivered at DCJ's chambers at Twed Towers in Nakasero on April 12.

"The delay of this court in disposing of the matter your Lordship negates the contents of Articles 44 (c) and 28(i) of the Constitution and is not explainable in our view," the letter read.

During the 2016 general elections, Lukyamuzi contested for the seat, but lost to Lubwama.

On December 19, 2016, High Court judge Margaret Oguli-Oumo granted voter Habib Buwembo permission to file an election petition against Lubwama out of the stipulated 30 days, challenging his academic qualifications.

However, Lubwama instead challenged Justice Oguli's decision at the Court of Appeal on grounds that the judge erred in law when he allowed Buwembo to challenge his academic papers out of the stipulated time. The matter is pending hearing.

Buwembo argues that Lubwama failed English language, mathematics, and commerce, but got a credit three in Christian religious education, a pass eight in history and geography.

He says that the results did not merit Lubwama a Uganda Certificate of Examinations certificate, a prerequisite for taking Uganda Advanced Certificate of Education that enables a person to pursue a diploma or degree course at a university.

It is alleged that Lubwama used the said documents to sit mature age entry exams to be admitted for a diploma in music, dance and drama at Makerere University.

Lubwama joined Makerere University in 1993, after he presented a letter from UNEB, confirming that he sat for his O'level.