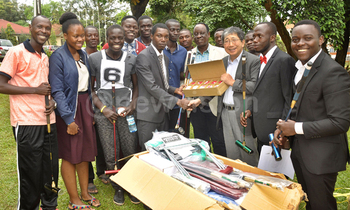 The Uganda Gateball Union (UGU) is now ready to start their league after receiving equipment worth sh70m from the Japan based World Gateball Union.

Japanese ambassador to Uganda, Kazauaki Kameda handed over the over sh70m equipment to the UGU officials led by their Patron Female Youth MP Anne Adeke Ebaju and president Robert Bakaze who were with sports commissioner Omara Apita at Makerere University on Saturday.

The equipment will enable the UGU develop and promote the sport to more parts of Uganda and it will also enable the Uganda National Gateball team to have better training with the equipment as they gear up for the World Gateball Championship due September 21-23 in Sao Paulo, Brazil.

The donated equipment includes 112 Gateball Mallets (sticks), 100 stick cases, 400 balls, 53 gates, 15 court line tapes, 106 bibs, 11 timers, 30 time scores, 110 score sheet sets, 10 bags, 20 polo shirts, 4 loose leaf binders, 20 Gateball books and rule books and one gateball bingo board for children.
Japanese Ambassador to Uganda Kazuaki Kameda (center) takes a shot after he handed over Gateball equipment
Kameda said the donation was made as part of the 'Sport for Tomorrow programme- an international contribution through sport initiative jointly implemented by public and private sectors, which promotes sport to more than 10 million people in over 100 nations until 2020, the year when Tokyo will host the Summer Olympic and Paralympic Games.
He advised the UGU to ensure they take good care of the equipment and also use it to spread the sport in the country.

"I would like to thank Shikawa for his generous donation and Bakaze for his passion and I hope the cooperation between Japan and Uganda will continue to grow through sport," Kameda said.

Apita hailed the ambassador for his commitment to sport and promised government support to Gateball.

On her part, Adeke said the donation will make the country more popular through sport as they were looking to sending a team for the World Championships in Brazil, in September.

"We want to grow the game and we hope many youth will get involved. Investement in sports is an investment in the country and we look forward to getting similar support in future," Adeke stated

Currently the sport is played in Makerere, Kawempe, Namboole and Kamwokya (TLC) and with the acquisition of the equipment will be spread further through a schools program, according to Bakaze.

Founded in 1947, Gateball is a mallet team sport (5-aside); fast-paced, non-contact, highly strategic team game, which can be played by anyone regardless of age or gender. It is played on a rectangular court 20 metres long and 15 metres wide.