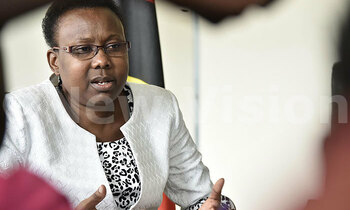 The minister of health, Dr Jane Aceng, has encouraged Ugandans to seek immediate treatment once they suspect any heart related issues.

The minister's advice was made at a press briefing held at the Ministry of Health on Wednesday. She commended the Uganda Heart Institute (UHI), Mulago for conducting another specialized heart procedure.

The minister praised the UHI for carrying out new procedure of diagnosing life threatening irregular heartbeats known as Electrophysiology study (EPS) and treating it by Radiofrequency Ablation (RFA).

Aceng said between April 3 to 5, 2018, a total of 13 patients were diagnosed with irregular heartbeats and 11 of them benefited from this procedure whereas the other two were referred for advanced treatment.

The Uganda Heart Institute has over the years diagnosed and treated specialised heart defects.

At the beginning of this year, UHI conducted a highly specialised open-heart surgery known as coronary artery bypass grafting surgery. The surgery that involved harvesting veins and arteries from other parts of the body to repair affected blood vessels around the heart muscles lasted for over 10 hours.

In 2012, UHI started carrying out catheterization procedures.

"The Uganda Heart Institute owns the only catheterization laboratory in the country, this was fully funded by the government in 2012, and it is state of the art equipment with all the units required for management of the different diseases of the heart," Aceng said.

She said this intervention will greatly benefit the country in reducing referrals abroad and increase the competitiveness of Uganda's health sector in the region.

Cardiac catheterization is a test used to check blood flow in the coronary arteries, blood flow, and blood pressure in the heart's chambers.

In 2013, the institute operated on 128 major heart surgeries among which 26 were children.

This reduced on the number of heart patients going abroad for heart surgeries.

Also in 2013, Uganda heart institute started a new treatment for heart failure. The treatment known as 'Cardiac Re-synchronization Therapy' (CRT) is a highly technical mode of treatment for heart failure involving implantation of a special pace maker in the heart with the aim of taking over the whole function of the heart.