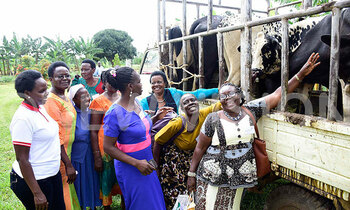 The Uganda Women's Effort to Save Orphans (UWESO) in partnership with the National Agricultural Advisory Services (NAADS) are to set up a model farm.

The farm will be set up at Masulita Children's Village, in Masulita town council in Wakiso district.

According to the NAADS Executive Director, Dr. Sam Mugasi, they want to use the farm to help residents of the area to learn better methods of farming and to feed the orphans at the children's village.

"We are going to fence off this land to make sure that everything is protected. We have been trying to provide several things but we realised the plantations are destroyed by the stray animals in the area," he said.

Mugasi revealed this during the UWESO General Assembly at the children's village in Masulita. The children's village is an initiative of UWESO used to support orphans and vulnerable children (OVC).

At the event, NAADS handed over six heifers to children's village. "We want to provide improved banana suckers, cassava and maize among others to help in increasing food production to feed the children. We are also going to rehabilitate the institution's maize mill," he said.

During the assembly, members elected a new executive and members. Mable Kiggundu was replaced by Rose Tumusiime as the new UWESO Chairperson, deputized by Betty Nesihwe.

Others on the executive are Noami Watiti (secretary), Dominic Baru (Treasure) and Christine Ndungu as the publicity secretary.

Members include; Sarah Maseta, Lydia Twine, Hellen Ogwang, Majorine Tironde and Veneranda Biryabarema.

Kiggundu (outgoing chairperson) said UWESO has improved many children's lives countrywide.

She thanked he First Lady and Minister of Education and Sports Mrs. Janet Kataaha Museveni for her vision to support OVC since 1986 when she initiated the idea after the war.

They also launched a new UWESO program to support refugee children and women.

The two year project; "Advancing Rights and Opportunities for Vulnerable Children" (AROC) will start in Mbarara and Isingiro targeting 4,500 children and 22,500 women refugee households and host communities through accessing education and strengthening of community local governance structures to respond appropriately to challenges facing the OVC.

The project worth $1m (about sh3.7bn) is funded by United Arab Emirates in partnership with the UWESO and would run for two years ending in December 2019.

While launching the project, Mrs Museveni who is also the founder and patron of UWESO hailed the project, stressing that there is still a lot of need to support refugees in Uganda.

The Child Protection Manager, Edrisa Wambewo, 5,940 children are getting direct support in education and child protection with 240 (vocational skills), 100 (secondary schools) and 5600 (primary schools) while more than 250,000 children are supported indirectly through livelihood programs at household level through Village Savings and Loans Associations (VSLA) and business skills trainings.