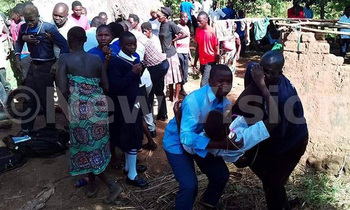 PIC: Residents helping students of Uringi SS, who survived the accident. (Credit: Benedict Okethwengu)

NEBBI - At least three students of Uringi Secondary School have been killed and 46 others critically injured in an accident on Nebbi-Kei Road in Nebbi district.

The accident occured at about 10.00am one-and-a-half-kilometres from the school premises.

Hassan Himbumire, the officer in charge of Goli Police border post, says the victims met their fate after an Isuzu truck they were traveling in lost control and veered off the road, before it overturned.

He said the injured have been rushed to Nebbi Hospital and Goli Health Centre IV for management.

Himbumire said the unidentified driver of the car is being detained at Goli Police post.

He identified the dead as Lindah Akech, a Senior Three student and Isaac Manano. Other two are yet to be identified.

Franco Bithola, a teacher at the school, said the students were going to take part in a Young Christian Society music dance drama competition organised by Nebbi Catholic Diocese.

Richard Olili, the Nebbi district traffic officer, confirmed the development, adding that the accident, without divulging much detail.

Another Police source, who spoke on condition of anonymity, attributed the accident to failure in brakes system.

When New Vision visited Nebbi Hospital, the victims were being attended to.

A source at the hospital that said the causalities had stabilised.

Jessica Ongeirtho, the Nebbi district deputy chief administrative officer, asked school heads to appreciate that trucks are no longer used for transporting students.