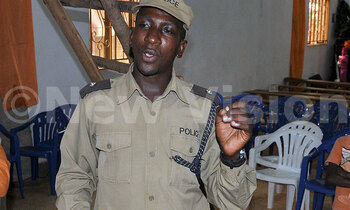 Former Buyende District Police Commander, Mohammed Kirumira. Photo/File

POLICE
KAMPALA - The Police tribunal has for the second time postponed its judgment in a case involving former Buyende District Police Commander, Mohammed Kirumira.

Kirumira is battling two charges of unlawful or unnecessary exercise of authority and one on corrupt practice.
Whereas the anticipated judgment was scheduled to take place on Thursday at the Naguru Police headquarters, Dennis Odwong Odongpiny, the court chairperson said court was unable to sit because one of the members was absent.

He set April 10 2018 as the new date for the judgment to be delivered.
"The prosecutor, Katherine Kusemereirwa, lost a friend and has travelled for burial. We shall therefore sit Tuesday next week," Odongpiny told New Vision on phone.
Odongpiny, also a senior commissioner of police, first adjourned the judgment two weeks ago to allow both the defaulter (Kirumira) and prosecutor Kusemereirwa to prepare their final submissions.
Following submissions that were made last week, court said they needed more time to study both submissions before judgment is passed.
Kirumira, also an Assistant Superintendent of Police (ASP), previously stated that whether he wins or loses in the Police tribunal, he will still seek civil remedy.