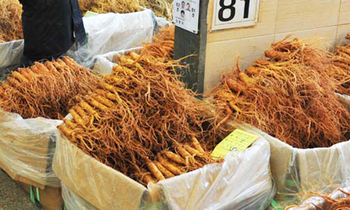 PIC: Experts say ginseng can stimulate cell growth in a human breast cancer cell. (Credit: AFP)
HEALTH | HERBS | CANCER
Cancer patients who frequently take medicinal herbs in between prescribed drugs, risk contracting life-threatening conditions, a medical body has warned.

The National Drug Authority (NDA) warns that alternating traditional herbs with prescribed drugs can cause adverse reactions in the body.

"Herbal remedies are used to alleviate symptoms of cancer, but you need to seek advice from your doctor before you take these herbal remedies alongside your anti-cancer medicine," Helen Byomire Ndagije, the director of product safety at NDA, says.

She says just like any other medicine, herbal remedies can render your cancer treatment less effective. The herbs can also cause side effects which can make your condition worse.

According to NDA, some herbal medicines can make a condition worse. For instance, ginseng, an oval-shaped root, is among the most popular herbal remedies. However, this herb can stimulate cell growth in a human breast cancer cell and so should not be used by women with oestrogen-receptor positive breast cancer.

"Herbal remedies can also interfere with conventional treatment. For instance, St John's Wort (a yellow flowering plant) has been shown to speed up the time the body takes to get rid of the anti-cancer treatment, Imatinib (cancer drug) by 44% when the drug and herb are used together," Fredrick Ssekyana, the NDA spokesperson, says.

Dr Grace Nambatya, the director of research at natural Chemotherapeutic Research Institute, says the two herbal medicines that have been stopped are global medicines and effective.

"Those are two global herbs and are good when used on their own. In fact, Asian people will laugh at us when we discourage people from using them because they are powerful drugs. But if the drugs body has discovered that they cannot go well with the anticancer drugs, people should not use them," she says.

The drugs body advises patients to declare any herbal medicine they are using to their doctors and to follow guidance on what herbal remedies one can use.