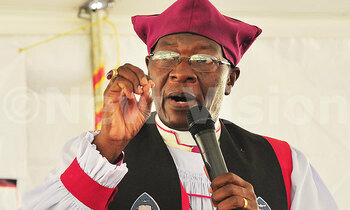 PIC: Bishop Luwalira came face to face with an attacker while preaching on Sunday. (Credit: Juliet Kasirye)

RELIGION

By Jerome Kule Bitswande

KAMPALA - The file for a man who tried to attack Bishop Wilberforce Kityo Luwalira at Namirembe Cathedral on Easter Sunday was due to be sent to the Director of Public Prosecutions (DPP's) office on Wednesday, according to Police.

Police deputy spokesperson, Patrick Onyango said police were in the conclusive stages of their investigations into the actions of suspect Herbert Kaddu.

The 35-year-old, wielding a club, was caught live on camera charging towards the front where Luwalira was preaching from inside the grand church in an apparent attempted attack on the prelate.

However, he crashed into a wooden bar before reaching his perceived target, and was immediately apprehended.

"We are only left with recording statements from two church officials so that we forward the file to the state attorney," Onyango said.

He said they had secured appointments to record statements from the church officials Tuesday evening.

In addition to statements recorded from the suspect's family, Police said they also acquired medical examination results on Kaddu's mental state.

The security agency told New Vision the medical examination done at Mayfair Clinic in Wandegeya, near the city centre, revelead that Kaddu is of sound mind.

Luke Owoyesigyire, the Kampala Metropolitan Police spokesperson, however, revealed that family members insist that Kaddu has a mental problem and steps are underway to have him taken to Butabika Psychiatric Hospital.

He added that the suspect, who is under custody at Old Kampala Police Station, maintains that the club he was holding on Sunday was a fetish that he wanted to hand over to the bishop so that he is prayed over.

Kaddu reportedly claims to be possessed with demons.

He is facing two charges: threatening violence and disturbing the peace of a religious assembly.