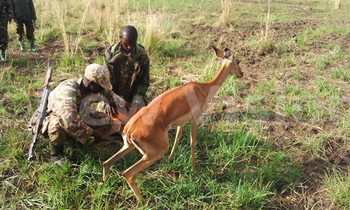 PIC: According to Wildlife authorities, the impalas are doing fine in Pian Upe. (Credit: Gerald Tenywa)

WILDLIFE

MBARARA - If impalas never existed in the city, the name Kampala would have probably not been birthed.

The impala, belonging to the antelope family, dominated the grassy rolling hills of Kampala many years ago. However, due to the expansive human population, impalas gradually disappeared.

Only Lake Mburo National Park is the known natural home of the impalas. Part og the park was degazetted about three decades ago and taken up by ranchers, who rear cattle. This has put the impalas under threat.

It is against this background that Uganda Wildlife Authority (UWA) has sought to preserve some of the remaining species (impalas) by relocating some of them to a new home in north-eastern Uganda in a place known Pian Upe, a wildlife reserve.
Rangers attending to impalas at Pian Upe. (Credit: Gerald Tenywa)
"We targeted to take 60 impalas from Mburo to Pian Upe, but we ended up translocating 92," said Robert Aruho, a veterinarian under Uganda Wildlife Authority.

"We want to enhance the survival of the impalas," said Aruho, adding that Pian Upe is a wild place that has antelopes as well as cheetah, ostriches, reed bucks and hyenas.

Aruho said Pian Upe is suitable for tourism and that they want to build the population of impalas outside Lake Mburo.

Bashir Hangi, UWA's communications manager, said the impalas multiply so fast and that their number will increase in a short time. The impalas have never existed in the Pain Upe previously and that they are being taken there for the first time.

In the two-week operation, impalas were gathered in a boma (a large scale), and they travelled at night to their new home.

"There were cases of vehicle breakdown, but these were sorted and the translocation continued largely during the night when it is cool with minimal traffic on the roads," said Hangi.