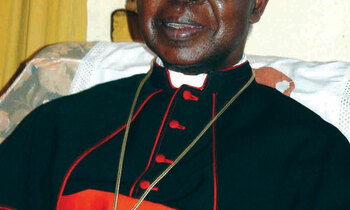 Cardinal Wamala called on Christians to pray against the evils in the country

EASTER SUNDAY

By Jerome Bitswande

KAMPALA - Christians have been called on to use Easter as a moment to reflect on their lives and pray for peace across the country.

The call was made by Cardinal Emmanuel Wamala during Easter Sunday at Nsambya Parish Church.

Wamala said it was unfortunate that the country was going through a terrible time characterised with kidnaps and mysterious murders.

The prelate said the onus is on the Christians to pray so that such misdeeds could cease in the country.

"Let us pray to God that the resurrection of Christ may bring us peace to enable us live in the country," he said.

On his part, the parish priest Fr Joseph Balikuddembe Ssemanda, attributed the unease in the country to increased mistrust precipitated by the hard economy.

"When the economy is bad, people get scared and sometimes the decisions taken are irrational," he said.

Ssemanda said much as many people could be going through hardships; they ought to remain stronger and steadfast in faith so as to overcome the challenges.

He also appealed to Christians to protect the environment so as to avoid the consequences that come with environmental degradation.

Earlier during the morning mass Fr Joseph Batulekeddeki had challenged all Christians to use the Easter season to exhibit their faith through doing good works.