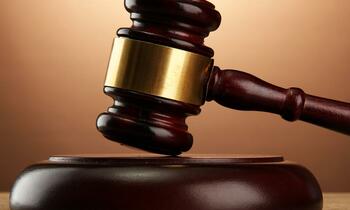 CORRUPTION

KAMPALA - The Buganda Road Chief Magistrate's Court has directed the suspended judiciary process server, Paul Musisi Tusubira, to defend himself over fake academic papers.

In her ruling on Thursday, Grade One Magistrate Gladys Kamasanyu ruled that prosecution had offered sufficient evidence in court necessitating Tusubira to defend himself.

"Basing on the evidence from over eight prosecution witnesses, I find that the accused (Tusubira) has a case to answer," Kamasanyu ruled.

She guided Tusubira that he was at liberty to defend himself on oath, keep quiet or give his evidence without taking oath.

Under the criminal procedure, an accused that opts to give evidence without taking an oath cannot be cross examined.

Kamasanyu also advised Tusubira that he could also call witnesses to defend him.

Tusubira who represents himself in court is slated to start his defence on April, 13, 2018.

He joined the judiciary in 1997 as a cleaner, but later applied for the position of a process server in 2002.

Process servers are needed in an assortment of tasks like filing court papers, serving and retrieving legal documents.

However, their principal job is to serve legal documents to a defendant or person involved in a court case.

Prosecution alleges that in 2002, Tusubira forged a Senior Four passslip to apply for the position of a process server.

The forged certificate tendered in court indicates that Tusubira sat his O'level at Jinja Senior Secondary School whereas not.

According to a letter seen by New Vision on court records, the Uganda National Examination Board (UNEB) has confirmed that the purported Tusubira's Senior Four slip is a forgery.

The judiciary's permanent secretary, Expedito Kagole Kivumbi, ordered for a probe into Tusubira's academic papers after he found out that he was working as an office attendant in the accounts department, yet he had been employed as a process server.

Tusubira claims the academic slip in contention is not his and never submitted it, but he was helped by Josephine Muwonge, the judiciary's commissioner human resource to secure the job.

"In 2002, Muwonge, who happened to be our supervisor informed us that there was an opportunity for us to be enrolled in the public service pay roll for a number of positions, including that of a process server.

"I told her that I was a Senior Three dropout, but she encouraged me and other colleagues to apply for the job, saying we were good people and she would back us," Tusubira said.

He contends that he is Paul Musisi Tusubira, while the academic slip bears the names of Tusubira M Paul.

However, testifying in court Muwonge disowned Tusubira and said she was not the human resource officer at the time.

"I became the Judiciary's commissioner human resource in July 2002, but the accused applied for the job earlier. My only job was to conduct the interview and I did not know who submitted what," she said.