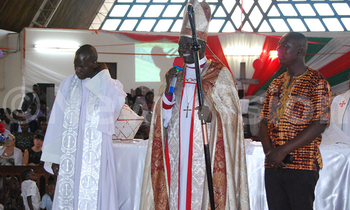 PIC: Naimanhye (centre) flanked by the vicar, the Rev. Mathias Katiko during Easter prayers on Sunday. (Credit: Jackie Nambogga)

EASTER SUNDAY

JINJA - The Busoga Diocesan Bishop, the Rt Rev. Paul Samson Naimanhye, has decried the rampant incidents of kidnapping and murders of women that have rocked the country.

Presiding over Easter Sunday prayers at Christ's Cathedral Bugembe in Jinja district, Naimanhye urged Christians to be careful as they celebrated the day.

He cautioned them to avoid walking alone and late in the night.

"As you celebrate the day, ensure that you return home early to avoid incidents of murders and kidnaps," Naimanhye counselled.

Leading prayers under the theme, The impossible made possible, he urged Christians to persevere in life.

Naimanhye said this was based on Jesus' suffering when he was crucified, rose from the dead and was victorious.

"If you are a Christian do not give up and do not get tired, be strong in Jesus who persevered until he got victory. There are people who thought he would not resurrect, but He made the impossible possible," Naimanhye preached.

He counselled that even if they encountered hiccups in their marriages, at work and in accomplishing their dreams, the Lord would see them through.

"Even if you have failed to construct a house, it is still possible, some of you have gone to witch doctors because your marriages are shaking, but you have to emulate Jesus who proved it possible," he urged.

Meanwhile, the Butaleja resident district commissioner, Richard Gulume, urged Christians to pray against the prevailing insecurity in the country.

Gulume called for collective responsibility in fighting insecurity and called for the promotion of neighbourhood watch.

He urged residents to put aside their political differences in the just Jinja East parliamentary byeelection, where the NRM flag-bearer, Nathan Igeme Nabeta, was defeated by FDC's Paul Mwiru and focus on development.

Instead, Gulume asked residents to use the prevailing rains to grow enough food to as a measure of fighting poverty in the region.

However, prayers were paralysed by a heavy downpour, which left the congregation camped in church for hours.