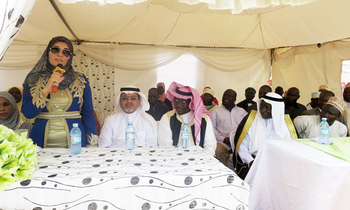 PIC: Dr. Gahdah Ahmad Latif Basha from Mecca, Saudi Arabia addressing the gathering during the celebrations to mark Muslim Women's Day. (Courtesy photo)

MUSLIM WOMEN DAY

KAMPALA - Thousands of Muslim women from different parts of Uganda converged at Uganda Muslim Supreme Council (UMSC) headquarters at Old Kampala Mosque to celebrate the second annual Muslim Women's Day.

A statement from UMSC spokesperson Haji Nsereko Mutumba said the theme was: "Islam is for Peace and Prosperity."

The guest of honour was princess Dr. Gahdah Ahmad Latif Basha from Mecca, Saudi Arabia.

The women's day was officially launched last year by the Mufti of Uganda Sheikh Shaban Ramadhan Mubaje.

Gahdah commended UMSC for recognising Muslim women by creating a full department for them.

She hailed Sheikh Radhiyyah Namakula, the UMSC secretary for women and youth affairs and her team for mobilising Muslim women from all over Uganda to celebrate their special day.

The statement said she also thanked Muslim men for supporting their sisters in this cause.

"I am from a royal family in Mecca, but that is not important. What is important is that we are brothers and sisters in Islam," Gahdah said, noting that things such as skin colour, sex and tribe are secondary.

She added that behind every successful leader, there is a great mother. She noted that the wellbeing of children depends on the wellbeing of their mothers.
The women who were gathered to mark the Muslim Women's Day. (Courtesy photo)

Promise to help

Gahdah urged Muslim women to come up with a joint document outlining all their issues so that she can see how to support them.

She was accompanied by her husband, Dr Abdul Basit Abdullah Abdulatif and Sheikh Asadu Lutale Semambo from Saudi Arabia.

Deputy Mufti of Uganda Sheikh Abdallah Semambo said UMSC recognises the value of empowering Muslim women and promised that UMSC management will keep supporting them.

"A woman is like a school. When you invest in it, you get a strong foundation for the future," he said.

Semambo also called on women to organise themselves in groups and apply for government funds for women at their respective government districts.

Sheikhat Radhiyyah thanked the UMSC administration under the leadership of Mubaje for establishing a Muslim women's desk which was later elevated to a full UMSC department.

In line with the theme of the day, she said Muslim families must ensure the prosperity of women in order to achieve peace in their homes.

She urged all Muslim women to unite and lobby for support with a strong voice.