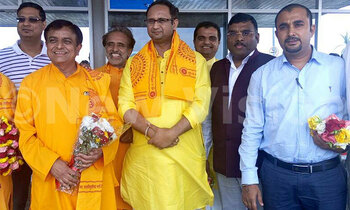 PIC: Dr. Pandya Chinmay was received at Entebbe International Airport on Thursday. (Credit: Michael Odeng)

RELIGION

The spiritual guru of the Hindu Community, Dr. Pandya Chinmay, is in Uganda to meet the Indian community.

He flew in Thursday aboard an Ethiopian Airlines flight and was warmly received at Entebbe International Airport.

Mehta Paresh, the chairman of Hindu Temple and Yajnik was at the airport to welcome the leader.

Chinmay said the purpose for his visit is to preach the activities surrounding the tradition of India of love, humanity and compassion to all.

"I am happy to come to Uganda, but if we preach about peace, we shall make the world a better place," he said.

Chinmay said they will soon embark on building hospitals and schools in Uganda in order to help the disadvantaged.

It is understood he is set to visit neighbouring Kenya and Tanzania as well.

Chinmay is the grandson of one of the greatest scholars, seers and philosophers of recent times in India, late Shriram Sharma Acharya, who was the founder of the All World Gayatri Pariwar fraternity.

He currently serves as Pro Vice Chancellor of Dev Sanskriti Vishwavidyalaya University in India.