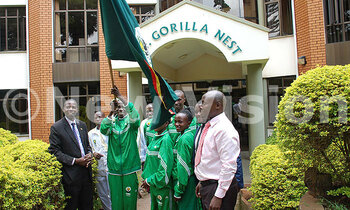 PIC: UWA's Steven Masaba (far-left) and Cheonges Sabila have photo moment before departure at the UWA headquarters in Kampala. (Credit: Titus Kakembo)

ATHLETICS

KAMPALA - Government has been requested to invest more money in athletics if the country is to outcompete regional and global powerhouses Kenya and Ethiopia.

This was at the flagging off of five Ugandan participants from UWA, who are to take part in the forthcoming Commonwealth Games due in Australia.

The multi-sport competition will begin on April 4 and close on April 15.

Overally, Uganda will be represented by a team of 23 athletes.

"If they are to display supreme endurance, let government give athletes the attention they deserve prior to winning medals if we are to assert the nation on the athletics map," said coach Rapheal Kasajja.

"We have the capacity to outshine Kenya and Ethiopia, but we will ask for some more resources."

Nutrition and training are important for athletes.

"Athletes need a special diet, training and equipment to brace for the rat race in international athletics in the fast-changing world," Kasajja said.

Chemoges Sabila, UWA's in-charge of the athletics department, concurred, saying they have ploughed in athletes, football, shooting and other sports a lot of money and they are already seeing success.

"There have been gold and bronze medals brought home," said Sabila.

"Expect more once our training centre under construction since 2010 is complete. We will be training round-the-clock in preparation for different competitions."

The team's captain, Ronald Musagala, who does the 1500m race, had his chest swelling with every breath sucked out of his seasoned lungs.

Next to him were others comprising Farid Wabutwa (800m), Winnie Namaganda (800m/1500m) and Halima Nakayi (800m and 4x4 relay).

"No effort is being spared to have our flag shine again globally," assured Steven Masaba while speaking on behalf of UWA executive director Sam Mwandha during a press conference on Thursday.

"They will go out there with fliers, photographs and literature preaching the gospel of Uganda's attractions."

Masaba said, through athletes who sprint like cheetahs or leopards found in some of the ten national parks on the land, Uganda can boost its annual number of tourists.