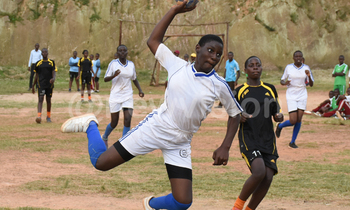 Handball Novices Results

Boys' category

Champions: St. Lucia

Runners-up:

Wampewo Ntake

Girls final

Mbogo High 13 Kawanda 12

Semi final

Mbogo High 11 Wampewo Ntake 7

Kawanda 17 Rines SS 6

Uganda Handball Federation (UHF) secretary Saudha Babirye has appealed to school aministrators to give children the opportunity to explore their talents at an earlier age.

Babirye in an interview on Tuesday said that the national handball novices tournament on Saturday at St.Lucia Hill School, Wakiso district, is a tournament that helps children explore their talents.

"The future of sports in Uganda is these young children, but headteachers must play their part by giving these children the opportunity to explore their talents," Babirye said.

She thanked head teachers who promote sports in their schools and also gave each team that participated a ball.

"We should not focus on winning alone, but give these young boys and girls a chance because," Babirye said.

St. Lucia won all their games against Kisozi High School, Crescent High School, Bombo Army, Rines Secondary School and Wampewo Ntake secondary school in the round robin format to emerge boys' champions.

In the girls category, Mbogo High defeated Kawanda Secondary School 13-12 in a tightly contested game.

To get to the final, Kawanda beat Rines Secondary 17-6, while Mbogo beat Wampewo Ntake 11-7 in the semi-final.

Kisozi High school, St. Lucia, Trinity College Nabbingo are the other schools that participated in the one day tournament.