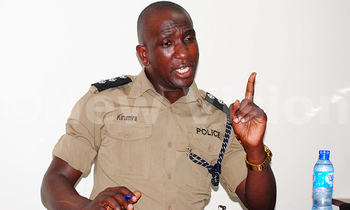 PIC: Former Buyende DPC Muhammad Kirumira during the Police Tribunal in Naguru on March 27, 2018. (Credit: Mary Kansiime)

By Cecilia Okoth and Desire Amanya

JUSTICE

KAMPALA - The Police Tribunal on Tuesday adjourned the trial of former Buyende district Police commander Mohammad Kirumira to Thursday next week (April 5 2018), where judgment will be made.

"Having heard submissions from both the defaulter and prosecution, we will now take time to analyse both submissions and arrive at a judgment on Thursday next week," said Dennis Odwong Odongpiny, the court chairperson.

Other members of the tribunal include Susan Kasingye, a Senior Superintendent of Police and Olivia Wawire, a commissioner of Police.


Kirumira, also an assistant superintendent of Police, arrived at the court with some of his relatives. He was also accompanied by some of his lawyers who included Abdullah Kiwanuka and Moses Bigirwa. Also in attendance were Kawempe North councillor Mohammad Segirinya, Kawempe South councillor Michael Ziggwa and Sheik Yusuf Musiitwa.

Before making his submission, Kirumira requested that court allows Kiwanuka to speak on his behalf, but Odongpiny refused, arguing that Police proceedings did not require legal representation.

Kirumira is currently battling two charges of unlawful or unnecessary exercise of authority and one on corrupt practice.