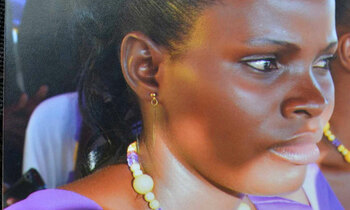 She left home going for prayers at Synagogue Church of All Nations of Pastor Samuel Kakande on Thursday. The church is found near Mulago Hospital, Kampala.

The next her family heard about her was when strange people called them using her number to say they were holding her and wanted a ransom of sh5m or they would kill her.
Kyoahirwe's brother Godwin Ahwera breaks down at Mulago Hospital mortuary. Photos by Stuart Yiga

That was the tragic end of Charity Genius Kyohairwe, 33.


According to her mother, Grace Muhwezi, the kidnappers, describing themselves as Super Killers called her at 5:00am and she could hear wails from her daughter.
Godwin Ahwera

After the kidnappers mentioned the ransom money, the family started looking for it. And by the next day, they had collected sh4.5m. However, on the advice of the Police at Katwe, who had assured them they were closing in on the kidnappers, they sent only sh2.5m.
The plantation where Kyohairwe's body ws found
They sent the money to a telephone number they had been given, which is in the names of Kasifa Nyakaisiki.

However, when the family members called to confirm that the kidnappers had received the money, they confirmed they had got it, but told them not to send the balance, but to pick their body from Mulago hospital mortuary.
Residents of Masajja gather at Kyohairwe's home upon getting the news of her death
"The money has come. Do not send more. Since you have decided to work with the Police, go to the mortuary at Mulago and pick your body," the kidnappers said.

True to their word, the body was in the mortuary that very day.

Kyohairwe's body had been found in a banana plantation in Nalukolongo, near the railway line and taken to Mulago. It bore marks of rape and torture.
One of Kyohairwe's friend

Kyohairwe, a resident of Masajja in Makindye-Ssabagabo, Wakiso district, hailed from Nyakashojwa in Mitooma district.

She is survived by two children; Henric Atwine, 3 and Angella Baturaine, 7, who are living with their grandmother in the village.
Kyohairwe's neighbour in Masajja

Kyohairwe had separated with her husband, Monday Baturaine, who has now been arrested to help in the investigations.