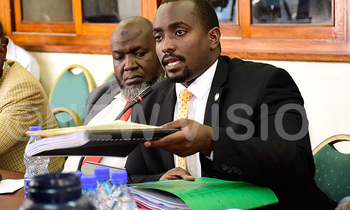 The Uganda Pharmacies Owners Association (UPOA) has asked parliament to intervene and stop what they referred to as an illegal and unfair directive by the National Drug Authority (NDA) to ban any more establishment of pharmacies in Kampala and other major urban areas.

Appearing before the parliament health committee yesterday, the UPOA team argued that whereas the internationally recommended ratio is one pharmacist per 1000 people, in Kampala it is one pharmacist per 2000 people.

The Association's legal secretary Deo Kalikumutima said, "According to article 40 of the constitution, every Ugandan has a right to trade and freely exercise their professional practice. Uganda's economy is liberalized. Therefore, the directive is not only unfair but also unfair."

At the beginning of January, NDA announced it would not renew licenses of drug shops in urban areas unless they accept to relocate to rural areas. The move according to the authority is aimed at extending health services closer to those in rural areas. NDA also promised to give incentives to pharmacies that will be relocating to rural areas.

NDA also directed drug shops in municipalities and towns to either upgrade into pharmacies or shut down in the next one year. The directive also limits establishment of more pharmacies in Kampala and other major municipalities.

In their engagement with MPs yesterday, UPOA team decried the high taxes levied to which they attributed the high cost of drugs in the country.

"NDA charges us 2% verification fees. These costs are passed on to the citizens who end up drugs at higher costs and this has negative impact because many citizens are unable to afford drugs," Kalikumutima argued.

The pharmacy owners argued if NDA wants more pharmacies established in the rural areas, the solution lies in creating incentives in those areas and not banning establishment of more pharmacies in the urban areas.

Pointing out various areas of incompetence including failure to weed out fake medicines and financial mismanagement, UPOA asked parliament to carry out a special investigation on the NDA.

"NDA has no capacity to test drugs. They don't have the necessary equipment to do their work. That is why you are hearing the stories of fake Hepatitis B vaccines. And this endangers the lives of Ugandans. ," UPOA stated.

The UPOA executive secretary Rajab Mutumba stated that there are many illegally operating drug shops without requirements to operate and so many others that render services beyond what they are required to offer.

"So many drug shops sell and manage drugs in class B and class A which are supposed to be handled by pharmacies only. In all these illegalities, people's lives are endangered," Mutumba argued.

Arguing that NDA is sabotaging businesses of Ugandans, Kasambya County MP Gaffa Mbwatekamwa presented documents of a Ugandan NDA recently denied a license to relocate her pharmacy from one area to another within Kampala.

Kibuku County MP Herbert Kinobere revealed that NDA needs to be taken back to operate under direct supervision by the ministry of health so that it can be able to effectively execute its mandate.