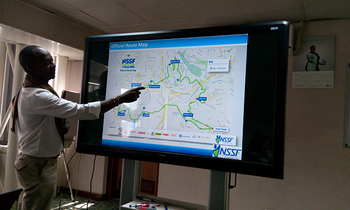 PIC: An official of the Seven Hills Run displaying the route map for the 20.3km marathon. (Credit: John Odyek)

NSSF HASH RUN 2018

KAMPALA - The National Social Security Fund Hash Run 2018, popularly known as the Seven Hills Run will take place this Sunday after the date was changed from last month for logistical reasons.

Vision Group has lined up 50 runners led by the chief executive officer Robert Kabushenga to participate in the event. Over 1,000 runners, including individuals and corporate establishments, are expected to participate in the race conquering Kampala's historical seven hills to raise funds for public schools in Kampala.

The route for the run was unveiled on Tuesday at the Workers House, Kampala. The run, fun events and prize-giving ceremonies is set to take place on March 25 between 6:00am to 12:00pm. It will start at Pearl of Africa Primary School, Nsambya. Runners will cover a distance of 20.3km.

The route traverses the seven hills of Nakasero, Kibuli, Old Kampala, Namirembe, Rubaga, Lubiri and Nsambya.

Experienced runners are expected to complete the hills. Normally, first-timers do struggle, but a few do manage to complete all the hills.

On completion of each hill, runners get a different coloured wrist band. At the start and end points, there is plenty of networking and entertainment.

Last year, over sh131m was raised from the run. The proceeds went to the renovation of Makerere University Primary School, Summit View Army Primary School and completion of works at Nakivubo Settlement Primary School.

In 2015, NSSF entered into a partnership with the Kampala Capital City Authority (KCCA) to raise funds for public schools under KCCA stewardship.

NSSF needed a vehicle through which it could interest other companies to join the initiative. This was realised through a fun, engaging half -marathon branded the "NSSF Kampala Hash 7 Hills Run", organised in conjunction with Kampala Hash House Harriers. The first edition took place on April 03, 2016.