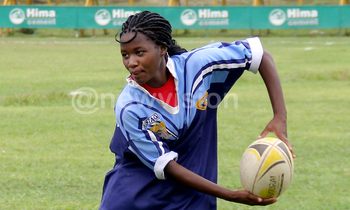 Women's Rugby League
Results
Panthers 0 T'birds 46
Ebb Ladies 12 Pearls 19
Champions: Thunderbirds

To say the Thunderbirds are a dominant force in women's rugby is an understatement. On Saturday they wrote another colourful chapter by taking their fifth consecutive league title.

Their 46-0 demolition of the struggling Black Panthers showed the gulf in class beyond reasonable doubt.

They lined up against the Panthers side knowing a win would finish the job because the Black Pearls were embroiled in a tough fight against Entebbe Ladies.

Norah Nabasirye opened the scoring for the Thunderbirds, then Samiya Ayikoru, Oliver Achiro and Asha Nakityo all got in on the act, in total scoring eight tries and polishing them off with three conversions by Mary Kyoita.

Thunderbirds coach Dorothy Nekesa credited her side for the work and dedication they put in.

"We train two days a week and we know from our teams is where we basically get the fifteens national team. We prepared so early because we started training in November so we prepared and we knew we could defend the title," she said.

Her team was very consistent with the players they fielded unlike some teams that could not field the same players consistently.

"We play as a team and as a team we work so hard so we know the challenges as women playing rugby but every other season we work so hard to achieve what we have now so we defend it jealously," she added.

The four-team table ended with the Thunderbirds on top followed by the Black Pearls, Entebbe Ladies and the Black Panthers occupied last place.