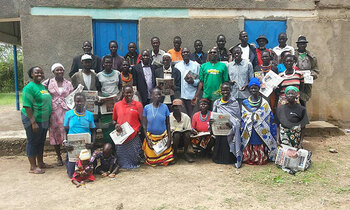 A number of committee chairpersons, sub-county chiefs and LC3 secretaries of education for the Alternative Basic Education for Karamoja (ABEK) programme have attended training by Vision Group's Newspapers in Education (NiE).

The training which kicked off Monday at St. Mark Sharing Hall, Napak district, was officially opened on Tuesday by Lorengedwat sub-county chief, Ben Paul Sagal at Panaora Hotel in Nakapiripirit district.

The training involves the use of newspapers to improve teaching skills and is co-conducted by New Vision features Editor John Eremu and Media in education manager Jovita Ajuna.

"Save the Children in partnership with Vision Group implements the NiE programme in 143 schools," said Eremu.

ABEK centre facilitators and monitoring assistants learnt how to use newspapers in classroom teaching at Panaora Hotel in Nakapiripirit district on the third day of the training.

In the same session the 2017 Teachers Making a Difference star, Godfrey Arims from Lemusu Primary School in Nakapiripirit shared his experience in Ireland with colleagues.

Teachers Making a Difference is part of the Vision Group's Ugandans Making a Difference project which started in 2008 to recognizes and rewards individuals who innovatively use limited resources to have a positive impact on their communities.

The annual project sponsored by the Irish Embassy took five teachers who emerged the best in the 2017 Teachers Making a Difference contest to Ireland for a study tour.