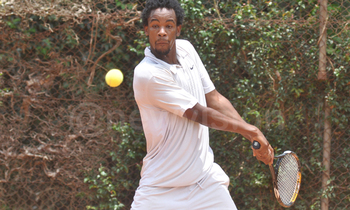 Uganda Tennis Association's troubles never seem to end.

Suspension of the association's top player Duncan Mugabe is UTA's latest controversy.
Mugabe was in an executive meeting last month suspended for six months for what UTA described as indiscipline.

The February 7th letter states that the suspension follows Mugabe's disrespect of the game, acts of violence and total disregard of his responsibility carried as Uganda's top player.

The suspension comes shortly before the Davis Cup and Futures tournaments where Uganda, which recently regained ITF affiliation, is supposed to participate.

Temperamental Mugabe currently training in the US has however cited malice in the punishment.

"Can you imagine I only received the letter two days ago," he said on phone from California.

"With all due respect, I don't think a letter of suspension dated on February 7 demanding for an appeal or response within 7 days should be received 6 weeks later unless it's a deliberate attempt to sabotage the recipient," states Mugabe in his response to UTA.

Mugabe does not deny having burst ups in the game but notes that he has duly apologised.