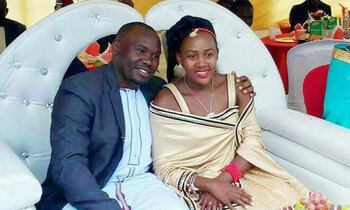 PIC: Kizza at his introduction ceremony in December 2017. Courtesy photo
The wedding bells had started ringing, the wedding meetings were going on and the groom and bride were looking forward to a glamorous wedding. They had had a marvelous introduction ceremony at the end of last year.

However, all this came to an abrupt halt when Steven Kizza drowned in Aruu Falls, Gulu district.
Kizza and his friends moments before he drowned
Kizza, an employee of an NGO based in Kamwokya, Kampala had travelled to Gulu on a work-related trip. While there, he and other colleagues decided to go and have fun at the falls.

Moments before he drowned, he first took pictures, then he sat down and put his feet in water as his friends took pictures. Unknown to them, this was their last moment with him.

Slowly, Kizza slipped down the water falls and by the time they realized he was actually slipping from life, it was too late to rescue him. They sounded an alarm, but there was no one in vicinity to respond to their calls.
Steven Kizza
Police came in later and managed to retrieve the body. It was transferred to Lacor Hospital in Gulu

Kizza was in charge of research and human rsources in the NGO, Innovation for Poverty Action, Uganda, which normally handles private and government contracts.

Masaka district chairman Jude Mbabali says he got a call from the Gulu chairman, Martin Ojara Mapenduzi informing him that someone from Masaka district had drowned in Gulu.

Fredrick Mugabi, one of his friends says Kizza's wedding was scheduled for August and wedding meetings were already going on. He says the bride hails from Sheema district.

Kizza studied at Mutesa I Royal University, where he was the chairman of NRM and the head of the catholic community.

Kizza's body was transferredto his home in Kinoni, Masaka, where he will be buried today (Tuesday) at 4:00pm.