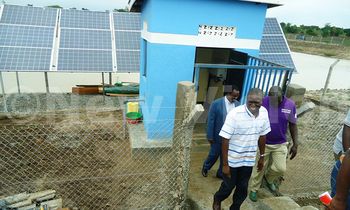 PIC: Behind,ministers Cheptoris (in a suit), Ecweru and Esiangu coming from a pumping house for Ojikai irrigation scheme on Friday (Credit: Emmanuel Alomu)

AGRICULTURE

SOROTI - Environment minister Sam Cheptoris on Friday commissioned a multi-million Ojikai water valley tank and small-scale drip irrigation scheme in Kamuda Sub County, Soroti district.

The project worth sh767m is funded by the Government under the environment ministry.

Several beneficiaries such as model farmers, youth and women groups have been selected and others have started harvesting crops such as sukumawik, green pepper, cabbage, water mellon, eggplant, tomatoes and onions.

Eng. Gilbert Kimanzi, the acting commissioner water in the production department at environment ministry, said the directive of President Yoweri Museveni was to have over 130 small-scale irrigation schemes established in the country by the 2018/2019 financial year.

According to him, this move by the Government is aimed at enabling people to practice modern agricultural practices so as to improve production and productivity since there are unreliable rainfalls nowadays.

Kibanzi said the Government was dealing with model farmers, willing farmers that the Government would partner with, youth and women groups so that household income is improved.

The acting commissioner said these categories of people should be having ready market for the crops produced in the irrigation schemes.

"We want to eliminate poverty and become a food basket to other countries using irrigation because we have several water resources for production," Kibanzi said.

According to him, the Government was starting with irrigating between 10-15 acres as a pilot in every small-scale irrigation scheme then they will continue to replicate them.

For the planned large irrigation schemes where between 500-1,000 hectares are irrigated, Kibanzi said, the Government is yet to get funds from the African Development Bank, South Korean government, World Bank and Islamic Development Bank.
Centre is Sam Cheptories (wearing blue suit) with other ministers and Soroti leaders looking at the cabbages being irrrigated in Ojika irrigation scheme on Friday

Following reports that some elite people were trying to resist the project, saying that the Government wanted to grab people's land, Cheptoris vowed to ensure that those stopping development are fought.

"It is some leaders that pretend to know more who are deceiving the residents that the Government wants to take their land so that people refuse such developmental projects, the people remain poor in order for him/her to deceive with little money during elections," the minister said.

Cheptoris promised to return to Kamuda to establish more small irrigation schemes since people donated land for government development projects.

In the same function, the state minister for agriculture, Christopher Kibazanga, said it was not good to oppose development even if one is in opposition party.

According to him, after becoming a minister last year, he realised that the country would go nowhere in the agriculture ministry, if there is no water.

This, he said has tasked him with asking the acting director and commissioner in the ministry's department that any project coming to the agriculture, water should be a key component because climate change is real.

Musa Ecweru, the state minister for disaster preparedness was excited that Kamuda sub-county, which was formerly a war area for the Karimojong warriors and the Lord's Resistance Army was developing.

The County MP of Soroti, Kenneth Esiangu Eitunganane, was grateful to the Government for the project, saying his people will no longer import vegetables such as tomatoes, cabbages and onions from Bugisu sub-region.

The Resident District Commissioner, Isaac Kawooya, urged the people of Kamuda -ounty to guard the project.

The team also checked the tree seedlings project of the County MP for Dakabela, Cosmas Elotu, and later to the sprinkler irrigation scheme being constructed in Wera sub-county in Amuria district after Ecweru donated land for the project.

President Yoweri Museveni is expected to commission the Wera Irrigation project that is going.