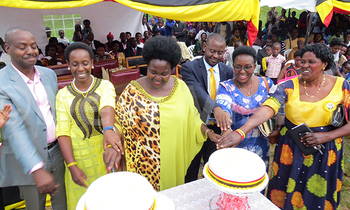 PIC: Guests cutting the cakes during the celebration. (Credit: Job Namanya)

WOMEN'S DAY

RUKIGA - The Government Chief Whip, Ruth Nankabirwa, has asked Ugandans to desist from stressing MPs in the execution of their duties.

Nankabirwa said some Ugandans continue blaming their legislators for not being visible in their constituencies, yet they are busy delivering their national duties.

"We have time for everything according to our politics. There is a time for politicking and campaigning, where we run through looking for votes. When one is elected, they are expected to serve the nation as assigned by Parliament. We, therefore, need to let our legislators work for the country when in Parliament," she said.

The Chief Whip made the remarks while presiding over the belated Women's Day celebrations for Rukiga district at Nyeikunama Primary School playground in Muhanga town council on Friday.

Nankabirwa said MPs are meant to represent their electorate on a national level and being ambassadors of development, they are supposed to lobby for their people without being pressurised.

"If you send your MP and you truly wish them well, you should give them the liberty to explore avenues available for national development. If they do not come back to the constituency quite often as you wish, understand that they are doing what they were sent to do in the House," she said.

Nankabirwa used the ocassion to urge Ugandans to embrace the forthcoming referendum, which seeks to revise the presidential term of office from five to seven years so as to correspond with the recent constitutional amendments that saw MPs extend their tenure.

Nankabirwa said the women were thankful to President Yoweri Museveni and the NRM Government for steering up their development and will forever support his cause for leadership.

"President Museveni is a special gift to Ugandan women. We are happy that he has encouraged our development. We must fight hard to ensure that he stays our leader," said Nankabirwa.

Speaking on the same platform, the Bugangaizi East MP, Onesimas Twinamatsiko, whose recent utterances in support of men beating their wives caused public unease, said he was caught offguard.

Twinamatsiko revealed that he supports women in society and wishes the best for them.

"I support women as pillars of our society and custodians of our togetherness. I am so willing to contribute towards any campaign aimed at uplifting the standards of women," he added.

The Rukiga Woman MP, Caroline Kamusiime Muhwezi, asked married women to respect and obey their husbands if their families are to develop.

"Despite the achievements we make in life as women, men remain men. I am compelled to respect my husband and serve him as expected for the good of our family," said Kamusiime.

She also used the event to launch the Rukiga Women Foundation, an initiative aimed at equipping women with life skills.

A total of sh21m was raised in both cash and pledges towards the initiative.

The Rukiga resident district commissioner, Emmy Ngabirano, urged men to support their wives in a bid to realise their development.

"Men should not be jealousy over the success of their wives. Instead, they should work hand-in-hand with them to achieve more in life," he said.