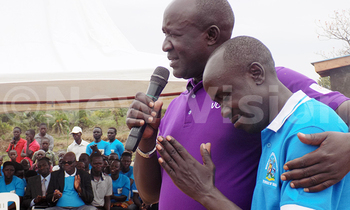 PIC: Musa Ecweru with LC3 chairperson Kamuda sub-county Daniel Eigu during the launch of government projects in the area. ( Paul Watala)

POVERTY ERADICATION

SOROTI - Opposition leaders in Teso sub-region have lauded the Government over the move to construct irrigation schemes and establishing model demonstration farms in the region.

The leaders said, the facilities if well-utilised, will help the farmers to get training in modern farming that will eventually increase production and productivity.

The leaders also hailed the Government for establishing the facilities in each a district, adding that they will act as training centres for residents to practice modern farming.

The opposition leaders at sub-county level and those at the district on Friday, set aside their differences and joined hands to sensitise residents about the upcoming development. They called on residents offer land for the construction of the irrigation and model farm demonstration gardens.

Kamuda sub-county LC3 chairperson Daniel Eigu, who had been a critic of the Government and its programmes, surprised the ministers and delegation of engineers from the water ministry when he asked other opposition leaders to join hands to embrace government programmes.

Eigu made the call on during the commissioning of over 400 irrigation schemes and model farmers' demonstration gardens in Kamuda in Soroti district.

The commissioning of the facilities was graced by environment minister Sam Cheptoris, state minister for disaster Musa Echweru and state minister for agriculture Christopher Kibanzanga.

"I have been an NRM critic, but of late, the Government has proved to be moving in the right direction of ensuring that Ugandans fight poverty in their households," Eigu said.

He also appealed to opposition LC1 chairpersons in Kamuda sub-county, who speak ill of government programmes to stop, adding that whoever does so is an enemy of the people he/ she is leading.

"The irrigation schemes and model demonstration farms in the districts in Teso will help all residents regardless of their political affiliation," Eigu said.

He also hailed President Yoweri Museveni's visionary leadership and also appealed to the Government to ensure that the old dams that are constructed in early 1980s be desilted to provide more water.

"We also appeal to Government to revive the citrus factory so that our idle youth can get jobs," Eigu said.

Cheptoris appealed to famers to grow high yielding crops that grow fast and bring in money so that they can fight poverty in their households.

"We are constructing over 450 small-scale irrigation schemes across the country," Cheptoris said.

He also challenged the residents to utilise their idle land to cultivate crops, adding that fighting government programmes is sign of backwardness.

Soroti LC5 chairperson Mikel Egunyu said with the construction of irrigation schemes, people in Teso will reduce depending on Bugisu for supply of cabbages, onions, carrots, egg plants and tomatoes, among others.

Ecweru said the establishment of irrigation schemes in Teso will save him from thinking of providing relief foods during the time prolonged dry spell. He appealed to leaders to sensitise and encourage residents to take advantage of the facilities.