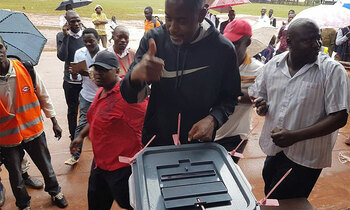 JINJA EAST CONSTITUENCY BYELECTION

Presented by Joseph Kizza


___________________________________________________________



3:50pm In pictures . . .

Take a look at some of the scenes from today's byelection.
EC spokesperson Jotham Taremwa (middle) talking to FDC supporters as MP Ibrahim Ssemujju Nganda looks on at Iganga Road polling station.
There was heavy Police deployment to quell any form of violence.
UPDF soldiers doing the foot patrol along Spire Road.
Former FDC party president Mugisha Muntu at Spire Rd polling station.
Eng. Francis Wakabi, an independent candidate in the race, cast his ballot at Main Street Primary School polling station.
Electoral Commission's chairman Justice Simon Mugenyi Byabakama (right) talking to voters at Main Street Priamry School polling station
2:56pm Nabeta's man escapes wrath of FDC supporters

The sentiments were mutual . . .

At Spire Road Primary School polling station, the chairperson of Nathan Igeme Nabeta's taskforce, Osman Noor Ahmed (wearing cap) came close to being attacked by FDC supporters. He was saved by swift Police intervention.
2:42pm Singer Lutaaya driven away

Meanwhile, NRM supporters led by a one Mukama (pictured below, left) drove musician Geoffrey Lutaaya (wearing hooded jacket) out of Main Street Primary School polling station.

New Vision's Jinja-based reporter Donald Kiirya says Lutaaya, who is attached to Mwiru's camp, faced cold reception by the NRM loyalists, before Police intervened to calm down the fiesty atmosphere.
2:30pm EARLIER: 'Vote wisely'

In the buildup to the byelection, NRM party chaiman President Museveni travelled to Jinja to drum support for his party's flagbearer Nabeta.

He told voters there that it is not wise to vote opposition MPs because they spend all their time criticising government instead of partnering with it for development.

Will the NRM leaders message stick all the way to ballot paper?

It is only a matter of hours until we know the outcome of Thursday's voting.
1:56pm 'We are not going to be intimidated'

FDC party president Patrick Amuriat talks of an air of intimidation around the election of a new parliamentray representative of Jinja East.

"Anybody coming to this election would not be able to distinguish between an election and a warzone.
Over 18 FDC supporters have been arrested & detained at various police stations. They are accused of inciting violence. #JinjaEastByelection@FDCOfficial1 President @PatrickAmuriat speaks to #CapitalNewsDesk pic.twitter.com/zSThRGdvQ8

— Capital FM Uganda (@capitalfmuganda) March 15, 2018

1:56pm NABETA CALLS FOR CALM

A communication from the NRM camp.
REMAIN CALM - NABETA TELLS VOTERS

Date: 15th March 2018

Just like other voters, the NRM candidate in Jinja East by-elections Igeme Nathan Nabeta has braved the continuous drizzling to cast his vote at Main Street Primary School Polling Station at exactly 11:00am this morning.

Speaking to different media sects after voting Nabeta urged his supporters and the entire public to remain calm amidst several false accusations being levelled against him.

Nabeta said the opposition camp was doing a lot of damage to tarnish his candidature on the last minute of this exercise but prayed to God to give a deserving final verdict.

Rogers Mulindwa
Communications Officer- NRM
1:24pm 'We are going to cross-check'

There have emerged reports of a number of forms of malpractice. One of the cases is of preticked ballots said to be from Iganga Road Junction Polling Station.

According to CCEDU, "one of them has serial number".

"We are going to cross-check with @UgandaEc to verify from which polling station they were actually allocated," the organisation tweeted, with one of the pictures below.
12:14pm VIDEO: 'Suspected ballot thieves'

It is still early days, but the byelection is not short of drama.

A scuffle has been reported at Walukuba Masese Division Office. Take a look.
A scuffle at Walukuba Masese Division Office where suspected ballot thieves were found. #JinjaEastByElection pic.twitter.com/46aHp1ltC3

— Shawn Mubiru (@ShawnMubiru) March 15, 2018
A scuffle at Walukuba Masese Division Office where suspected ballot thieves were found. #JinjaEastByElection pic.twitter.com/46aHp1ltC3

— Shawn Mubiru (@ShawnMubiru) March 15, 2018
11:45am When Nabeta voted . . .

If you missed that shot, here you go.
#JinjaEastByelection: Igeme Nabeta arrives to Vote at main street primary school. #CapitalNewsDesk pic.twitter.com/hZbhtMdurs

— Capital FM Uganda (@capitalfmuganda) March 15, 2018
11:23am Getting messy?

Apparently, accusations of electoral malpractice are beginning to fly here and there . . .
The situation in Jinja town is getting a bit rowdy, with accusations and counter accusations of ballot pre-ticking and vote rigging. #JinjaEastByElection
Photo: @cceduganda pic.twitter.com/3NriWd04Vu

— IntelPost (@intelpostug) March 15, 2018

11:00am NABETA CASTS HIS BALLOT

NRM flagbearer Nathan Igeme Nabeta has cast his ballot at Main Street Primary school in Jinja town.

10:38am 'Hotly contested election'


CCEDU BRIEF ON BYELECTION

Citizens' Coalition for Electoral Democracy in Uganda (CCEDU) has deployed 67 Election Observers for the Jinja Municipality East Constituency scheduled for March 15th 2018.

This is a hotly contested election, with FDC's Paul Mwiru and NRM's Igeme Nabeta being front-runner candidates. With campaigns having ended yesterday, 13th March 2018, there are concerns about arrests of about 50 people allegedly supporting the FDC candidate Mwiru. Most of these have been transported to Kayunga district to make their statements.

The EC has assured the local electorate of a well managed electoral process amidst concerns that the voters register to be used in the election contains a few hundreds of ineligible voters from other neighboring constituencies - allegations which the EC continues to deny.

The mood in the Constituency is very tense, with many police anti-riot vehicles taking strategic positions of the Constituency. Security agencies need to allay people's fears around witnessing an overzealous and overbearing police that could interfere with the Election Day proceedings.

We continue to call on the EC, security agents, candidates, supporters and all the people of Jinja East Constituency to ensure a peaceful and highly participatory election.

10:31am High voter turnout . . .

CCEDU has tweeted this picture of a queue at Elin Church Nursery School polling station with a caption that the voter turnout is high, "although the BVV (Biometric Voter Verification System) is not working, which has led to delayed voting".
10:15am CCEDU: Big up to Electoral Commission, Police

Citizens' Coalition for Electoral Democracy in Uganda (CCEDU) gives a nod to the Electoral Commission and Uganda Police for their role in the poll.
Great work by @UgandaEc and @PoliceUg to ensure that all people are given the necessary help to cast their vote #JinjaEastByElection pic.twitter.com/ffNDYt3Cts

— CCEDU (@cceduganda) March 15, 2018

9:33am Who will be the best of the rest?

The lines are drawn clearly in the thick sand of Jinja East. Long-time rivals Nabeta and Mwiru make up the main plot of this byelection.

On the other side is a host of half-a-dozen hopefuls, all but one of them independents. One of them is Nabeta's former political assistant Faisal Mayemba.

Others are Eng. Francis Wakabi, Hatim Isabirye Mugendi, Monica Abuze, Richard Nyanzi and Paul Mugaya of the People's Progressive Party (PPP).
9:25am Rivalry of the old

Nabeta and Mwiru are no stranger to this particular election in the area. This is the fifth time the NRM and FDC candidates, who are competing against six independent candidates, are facing off since 2006.

Nabeta emerged victor in 2006, 2011 and 2016 while Mwiru won in a byelection of February 2012.

But on January 13 this year, Nabeta lost his seat in Parliament after the Court of APpeal nullified his victory.
9:15am Nearly 30,000 registered voters

A total of 29,973 registered voters from 47 polling stations will decide among he eight choices on the ballot paper.

As mentioned earlier, the Jinja East seat became unfilled after court nullified Nabeta's election.
9:04am More than 70 arrested in buildup

In the buildup of today's byelection, over 70 people were arrested Tuesday week and remain detained in Police stations in Jinja.

The suspects, today's New Vision reports, are accused of taking part in a fierce clash between NRM and FDC supporters.

The alercation occured near Nile Agro-Industries.

Police said three NRM buses were vandalised and are parked at Jinja Central Police Station headquarters.

You can read the New Vision newspaper off your palms via the e-paper HERE.
8:53am Ungazetted polling station?

Yes. So tweets Crispin Kaheru of Citizens' Coalition for Electoral Democracy in Uganda (CCEDU).
#JinjaEastByelection Voter vigilance exposes 5th un-gazetted polling station at Main street Primary School in Jinja town @nbstv @ntvuganda @newvisionwire @DailyMonitor pic.twitter.com/mZ1Xhwdau7

— Crispin Kaheru (@ckaheru) March 15, 2018
8:37am Nabeta vs Mwiru

It is a clash of the Jinja titans . . .
8:25am 'Slow start due to rain'

So far, it has been a slow start at most polling stations.

The rain seems to have something to do with it . . .
Voting starts at a slow pace due to the morning rain. Meanwhile election materials have been delivered at most polling stations.

Up to 28,000 voters are expected to cast their votes at 47 polling stations. @nbstv #JinjaEastByElection #NBSOnJinja pic.twitter.com/B0rrEvYdeU

— Joyce Bagala (@joycebagala1) March 15, 2018

8:17am Voting under way

A Main Street Primary School, voters started casting their ballot at 8:00am local time.
#JinjaEastByElection underway; at
Main Street Primary school, Jinja town, polling commenced after 8am. Follow #NBSOnJinja
for #NBSUpdates @nbstv pic.twitter.com/lQUsW8mXrH

— Mable Twegumye Zake (@MableTwegumye) March 15, 2018
8:10am Two bulls in the kraal

This byelection may feature eight hopefuls, but in truth, the main contenders are two. Nathan Igeme Nabeta and Paul Mwiru harbour a long-standing rivalry in the area. Theirs is a competition that spans years.

Who will rise to the occassion today?
7:55am All set

The election materials were collected and taken to the polling stations early, with security deployed to oversee the process.
7:48am Polling at over 40 stations

Today's voting will take place at as many as 47 polling stations.

So how did we come to getting back to the ballot in Jinja East, you may ask?

The seat fell vacant after the Court of Appeal in Kampala nullified Nathan Igeme Nabeta's victory in the 2016 parliament elections.
The court threw a spanner in the NRM flagbearer's works on grounds that he had connived with the Electoral Commission to tinker with the results at Danida A-D polling station, giving him the edge over his challengers.

7:36am Rainy Jinja

If you are in Jinja, chances are that it is raining in your area. And if you are particularly in Jinja East, and you plan to vote today, carry along an umbrella.

Slap on a raincoat or even gumboots if you don't want to ruin your mocassins or suede shoes.
7:30am Wet morning in Jinja East

Jinja East Constituency has woken up to downpour. Will the elements ease off a bit?

Voters are usually put off by wet weather on voting day.
7:15am Shifting focus to the east

Hello and good morning everyone.

Welcome to this page, where I will keep you up-to-date with the latest text, photos and social media interactions from today's by-election in the Jinja East Constituency.

Eight candidates feature on Thursday's ballot paper, but two stand out: ruling party NRM's flagbearer Nathan Igeme Nabeta and opposition party FDC's Paul Mwiru.

The rest of the contention involves independent candidates Faisal Mayemba, Francis Wakabi, Christine Monica Abuze, Richard Henry Nyanzi and Isabirye Hatim Mugendi.

Paul Mugaya is bearing the flag of the People's Progressive Party (PPP).