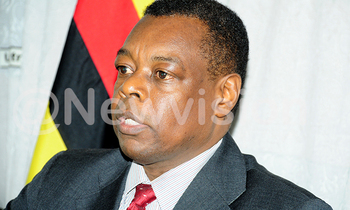 PIC: Ben Manyindo, the UNBS executive director
BAN | OUTBREAK
KAMPALA - The Uganda National Bureau of Standards (UNBS) has warned the public against from importation, sale and consumption of South African processed meat products.

This was after a Listeriosis (listeria) outbreak linked to pre-packaged and ready-to-eat meat products.

This outbreak has so far killed 180 people in South Africa.

Uganda is the second nation in East Africa to ban ready-to-eat meat products from South Africa that include polony, ham, salami, hot dogs, frankfurter, sausages and refrigerated pates or meat spreads. Kenya was the first to ban the products.

"In order to ensure the health and safety of the public, UNBS is carrying out market surveillance inspections in all supermarkets that are said to be main importers of South African meat products. This is to ensure that affected products are removed from the market. Analysis of related products is also being carried out to ensure there has been no cross-contamination," Godwin Bonge Muhwezi, the head of public relations at UNBS, said.

Muhwezi further noted that all UNBS imports inspectors at border points have been notified to withhold consignments of all pre-packaged and ready-to-eat meat products from South Africa until further notice.

"UNBS would, therefore, like to call upon consumers to avoid buying the above mentioned products originating from South Africa until they have been cleared by UNBS," Ben Manyindo, the UNBS executive director, said.

He added that UNBS will continue to perform its mandate of enforcing standards to protect consumer health and safety as well as the environment against dangerous and sub-standard products.