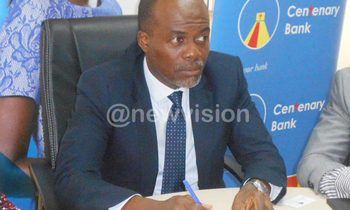 PIC: Kalyegira of Capital Markets Authority said overreliance on bank finance constrains rapid growth of businesses. (Credit: Prossy Nandudu)

BUSINESS

KAMPALA - Financial experts have called on managers of pension funds to loan them out to small and medium enterprises (SMEs) so they can grow.

The argument is that such funds are long-term capital with no pressures, compared to funds from financial institution.

Keith Kalyegira of Capital Markets Authority (CMA) said overreliance on bank finance is a huge obstacle.

"When businesses start, they do not last and when they do, they do not stay longer. The main challenge of that is overreliance on bank finance, which has issues, such as short-term payment periods," he told a press conference in Kampala.

"Overreliance on bank finance is one of the constraints to rapid growth of businesses. We need to bring the two together -- business owners and managers of long-term finance to have a discussion on how they can tap into that capital," Kalyegira said.

On Wednesday, the 7th directors and companies' secretaries conference will be held in Kampala.

The conference is running under the theme 'Corporate governance for private sector led growth'.

While Kalyegira said funding will reduce the collapse of SMEs due to failure to pay back loans, he emphasised that SMEs must practise good governance.

"Considering that financing is a life-blood of businesses, it is critical that we do everything and anything that will help businesses access capital."

Jane Langoya, the chairperson Institute of Chartered Secretaries and Administrators, said understanding and implementing a good corporate governance framework presents SMEs with a structured path to better management of their businesses.

She said over 90% of businesses in Uganda are small, and therefore should be encouraged to grow so as to benefit from government programmes, such as the BUBU (Buy Uganda Build Uganda) policy.