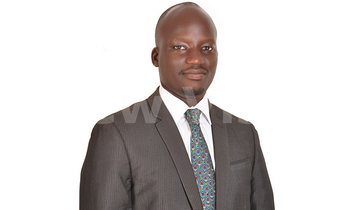 PIC: For Julian Andrew Taliwaku, like other guild president contestants, sexaul harassment in the Makerere University is top on agenda (Credit: All photos by Martin Kitubi)

By Martin Kitubi and Lisa Nsaba

MAKERERE UNIVERSITY GUILD PRESIDENT ELECTIONS

KAMPALA - The on-going Makerere guild president campaigns have been dominated by promises from candidates to make sexual harrassment history.

The aspirants argue that the current committee investigating sexual harassment protects the lecturers, leaving students with no where to run to.
Recently, Makerere University lecturers were in the limelight following media reports that students were bring sexually harassed in exchange for marks.

Later, the university vice-chancellor Prof. Barnabas Nawangwe came out to clarify that his administration would not tolerate sexual harassment.

Several students, who are aspiring for Makerere University Guild Presidency, have mainly promised to tackle sexual harassments in the institution among other grievances faced by students.

The students' top seat at the university attracted sixteen aspirants however, the elections, which were slated for March 2, were postponed by Nawangwe over several issues, including unco-ordinated preparations.

A letter dated March 1, signed by Nawangwe says: "It has come to the attention of the university management that while guild elections were scheduled for Friday March 2, the process of putting in place necessary requirements for the elections has not been finalised."

In the letter, Nawangwe highlighted that delayed appointment of polling agents, assistants by the university electoral commission, selection of agents for candidates and clarity about the presidential candidates, lead to the postponement of the elections until further notice.

"In accordance with Article 73 (1) of the guild constitution, the guild presidential elections, which are hereby postponed until further notice," Nawangwe added.

The New Vision profiled the different candidates to highlight what they ought to offer to students and the university when elected.


FRED ANDAMA - SECOND YEAR: BACHELOR IN DEVELOPMENT STUDIES

There are several grievances that need to be addressed by Makerere University which have not been addressed.

The institution keeps on being dragged in controversies, from rape cases, students committing suicide to fake degrees.

These factors, among others, affect us as students and it has derailed the reputation of the great institution on the continent. Fellow students continue to sexually harassed by both students and lecturers.

I intend to reverse this once elected as the guild president. It is embarrassing that the Ivory tower of academic excellence has been painted with a negative picture.

I intend to establish a ministry for women affairs and appoint representatives for each school and department to register, investigate complaints against students and lecturers.

We will proceed by naming and shaming offenders, report to vice-chancellor's office and then courts of law.
SILVER KENT LWAMAZA - FOURTH YEAR: BACHELOR OF MEDICINE

The leadership structures of students have failed, there are big gaps in communication among students, university administration and the Government.

Despite Government interest in helping students, activities are not well co-ordinated and this explains why students end up striking.

I served as the health minister in 2015/2016 Guild Union; however, we noticed that the institution lacks ambulances in times of emergencies.

The entire university has only one ambulance to serve over 10,000 students, yet we pay functional fees.

We recently lost an epileptic student due to lack of an ambulance to rush him for treatment.

On security, the halls of residence are not fenced. Several students have been attacked and robbed.

The female students are attacked and raped in their hostels.

And on academics, several students have missed graduation, not because they have retakes, but because results were misplaced by lecturers and mishandled in the academic registrars' office.

We will demand immediate release of results, access to results online before students are assessed for the next semester.

I will advocate for re-enforcement of committee investigating sexual harassment, to allow it punish culprits, the current one often covers up for offenders. I will engage students on how we can fight sex for marks, sexual assault in the university.
HENRY TURYASINGURA - SECOND YEAR: BACHELOR OF ENVIRONMENTAL SCIENCE

I will advocate for a centralised office where all issues related to sexual assault, including sexting and using vulgar language, among others are reported.

We currently have a committee that investigates sexual harassment, but is fond of covering up for lecturers.

I intend to engage the Church, Mosque and halls of residence in and outside the university, to sensitise students on how to counter sexual harassment.

Little or no information is provided about harassment during reporting at the university, the trend should change and new entrants will be sensitised about the vice.

On students' and lecturers' strikes, which have been numerous over the years, we will ensure that we mitigate them, engage the top administration before it gets worse.

Some strikes are justified and often arise from communication gaps among students, administration and lecturers.

These strikes have resulted in extending graduations and duration of study.
FLORENCE NAMUGANZA - THIRD YEAR: JOURNALISM AND MASS COMMUNICATION
I should start with my slogan; Dawn of the New Era, its set to change negativity about Makerere University. I intend to address many things in the university as a students' leader, however the main focus will be on sexual harassment and strikes.

Many stories have been reported on how students are sexually tormented by lecturers and fellow students. For that, I will establish an Anti-Sexual Harassment unit at the Guild Union.

It will be a mechanism for all students to report any threats, attempts and sexual harassment, but with emphasis on how to protect students from harassment before it happens.

The unit will provide preventive measures, thence protecting students form harassment. The current sexual harassment committee only comes in after a student has been molested or harassed, yet often it could be prevented.

If the problem is indecent dressing among students, we will sensitise them on that, if it is deliberately done by offenders to harm students, especially women, we shall sensitise them on how to fight it, including a recommendation for a pepper spray.

On strikes, we shall seek dialogue with relevant authorities, to address issues with strikes, many of the issues, which lead to strikes are genuine, but we shall seek dialogue first.
BRUNO BAYUBE - SECOND YEAR: BACHELOR OF SCIENCE AND POPULATION STUDIES

If you ask majority of graduates from Makerere, they would tell you missing marks was their major concern.

It has affected many, including myself, we seek to advocate for decentralised system on examination management, where all colleges and departments have a copy of the results other than relying on the academic registrars' office where most of our results are misplaced.

On sexual assault and harassment, we will establish an independent body to handle these cases.

I think the current committee only protects their staff and this explains why even where clear, investigations are delayed, students are frustrated and later give up.

On co-curicular activities, sports have been abandoned, institutions like Makerere University must be breeding grounds for talent, but the institution was recently suspended from the University League over unclear circumstances.
JOHNSON EMMANUEL OBBO - SECOND YEAR: BACHELOR OF ARTS IN SOCIAL SCIENCES

In academics, I will advocate for a revised tuition policy, the current one has been violated by the administration.

The Window C on the tuition policy says if students fail to clear tuition two weeks prior to examinations, they should talk to vice-chancellor and they would be pardoned and then pay later or even, apprehend results.

However, the admiration has denied many to sit for examination, this explains why many students dropout and or miss examinations.

The policy was established in 2015/2016, with an aim to enable those who failed to clear on time, to sit for examination. Makerere University for many years, has been hit by missing marks.

On several occasions some students score 80% in both course work and examination, but they are given retakes and other marks go missing. Students must be given printouts and or pass papers on how they performed so as to keep their results too.


JULIAN ANDREW TALIKUWA - SECOND YEAR: BACHELOR OF LAWS

I will engage the university and enable students to be involved in university projects, for both practicals and improve students' welfare.

Why would the university offer a construction company a contract to put up a mega structure without engaging learners, including painting? I think students need to be involved.

I will seek to introduce a convocation report, on how many graduates from each department are getting employed.

This will help the institution to determine whether some of the courses offered are vital and those which are not needed must be scrapped of the syllabus.

We are sending out many graduates and they have failed to find jobs, students shouldn't study what is not needed in the market.

On the issue of students Loan Scheme, we feel many disadvantaged people have been neglected while offering loans. We need should know who gets to the loan scheme, but we have seen many students from well off families benefiting.

We will also urge government to increase funding into the scheme to accommodate many including art students.

Joe Kasumba: Second Year, bachelor of science and information technology

I will advocate for a supplementary examination policy, where students who have retakes can sit for the papers in a short time so as they graduate with the other students.

This has greatly affected those in line to graduate and they are required to sit for their retakes the following year, this cripples many of chances of getting employed.

I will ensure that there is an end to sexual harassment, strikes, among other grievances.


JOE KASUMBA - SECOND YEAR: BACHELOR OF SCIENCE AND TECHNOLOGY
I will advocate for a supplementary examination policy, where students who have retakes can sit for the papers in a short time so as they graduate with the other students.

This has greatly affected those in line to graduate and they are required to sit for their retakes the following year, this cripples many of chances of getting employed.

I will ensure that there is an end to sexual harassment, strikes, among other grievances.