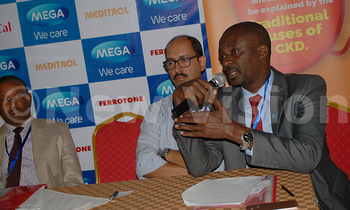 PIC: Dr Gerald Mutungi addressing participants during the World Kidney Day on Friday

HEALTH

KAMPALA - Experts have warned Ugandans against self-medication and use of herbal medicine, arguing that the practices cause acute kidney injury, which may progress into chronic kidney disease.

Speaking during the World Kidney Day Conference at Cooper Chimney Restaurant in Lugogo Kampala on Friday, Dr Frank Asiimwe, a urologist working with Mulago Hospital, said the damage to the kidneys results from overdose in self-medication and unknown chemicals in the herbs.

At the same function, Dr Gerald Mutungi, the program manager non-communicable diseases at the Ministry of Health, said people should not go to the pharmacies and buy drugs without the doctor's prescription.

"Patients are lured into taking herbal medicine without knowing the complications they will cause. There are many drugs on the market that they claim can cure several diseases, something that science does not support," Mutungi said.

Explaining how the damage occurs, Mutungi said most medications and herbal medicines are poisonous to the kidney.

Additionally, unregulated use of drugs poisons the kidney. He said drugs, for example, diclofenac are commonly used, yet they can damage the kidneys.

Mutungi, however said despite the fact that the laws prohibiting people from buy drugs for self-medication are in place, there is poor implementation as the issue is outside the health sector.

He also noted that a bill on indigenous and complementary medicine, which is in Parliament could help stop use of herbal medicines.

What is acute kidney injury?

Acute Kidney injury (AKI) is a sudden episode of kidney failure or kidney damage that happens within a few hours or days. The injury causes a build-up of waste products in the blood and makes it hard for the kidneys to keep the right balance of fluid in the body. It can also affect other organs such as the brain and heart, among others.

Statistics of kidney disease

A study conducted in Wakiso district and Kyamulibya sub-county in Kalungu district in 2014 and 2017 respectively by Dr Robert Kyalesubula, together with Makerere University and Medical Research Council Entebbe, indicated that 20% of the population had kidney injury, of which 0.05% are in need of dialysis and 2% have chronic kidney disease.