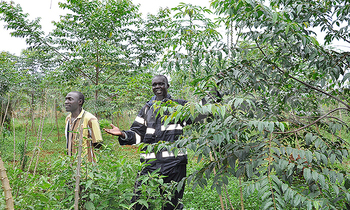 PIC: Left-right: Farmer Abdulkarim Semanda and site co-ordinator Vicent Asiku addressing councillors of Wakiso district on the committee of production and natural resource during their tour on Zinga Island on March 8, 2018. (Credit: Nancy Nanyonga)

WILDLIFE CONSERVATION

WAKISO - As part of the strategies to boast tourism and promote the conservation of natural resources, the Wakiso district leadership has partnered with the residents in Bussi Zinga island-Makanaga on Lake Victoria to conserve wildlife potentials in the area.

The partnership is supported by Flora and Fauna International (FFI), together with the Uganda Wildlife Authority (UWA), Uganda National Fisheries Institute (UNFI) and National Forestry Authority (NFA), among others.

Makanaga hosts a variety of bird and plant species, including the unique shoebill stork.

This follows a memorandum of understanding signed by Wakiso district with FFI in 2015 to do an assessment and study on Zinga Island to come up with a comprehensive management plan on how to maintain the resources on and around it.

Bussi has four islands including Bussi main, Zinga, Kitufu and Kavenyanja.

On Tuesday, the district committee on production and resources carried out a field visit on the island to check the various site specifics and what needed to be done for development.

They visited some the bird sites, demarcated fish breeding zones and the boat trails for the tourists, among others.

According to the FFI site manager, Vincent Asiku, the area was discovered to be a hub of over 130 bird species, including the rare shoebill stork, which has also been listed among the endangered species.

"Since we came in this area, we have been doing a study on the shoebills. We have seen about nine of them and some in pairs. These birds attract tourists from all over the world because they are mainly in Uganda. That is why we have put a lot of emphasis here to ensure that residents know them and learn how to protect them," he noted.

Asiku said the shoebills unlike other bird species love a quiet environment.

"That is why we have zoned off this Makanaga wetland to avoid disturbing their peace. Most of the birds here are unique and attractive. We realised that even this area is breeding place for some of them," he said.

Other birds in the area include terns, gull billed terns, Goliath Heron, African Jacana, grey headed gulls, blue swallow, great cormorant, African fish eagle, Egyptian geese, king fishers among others. He said the area has over 135 birds species.

Asiku said the area also hosts other animals such as sitatungas, black and white Columbus monkeys, civet cats; snakes like the rock pythons, cultural sites and others plants.
Site co-ordinator Vicent Asiku addressing councillors of Wakiso district on the committee of production and natural resource during their tour on Zinga Island on March 8, 2018. (Credit: Nancy Nanyonga)

With support of the UNFI, they also managed to test the waters and zone off fish breeding places around the island.

The FFI project manager, Rogers Nuwamanya said they had sensitised the communities on the importance of conservation of the various natural resources and how they can benefit.

They have managed to agree with residents and created their own community conservation areas (CCAs) to protect the various resources.

"Today, residents arrest fellow colleagues if found with young fish. They realised that they get more profits from mature fish than young fish. We also thank the Uganda People's Defence Forces for fighting illegal fishing on the lake. Their presence has helped," he said.

FFI has also distributed over 50,000 free tree species to residents to boast tree planting on the island. They also gave out goats, pigs and orange seedlings to residents to start income-generating activities rather than focusing on fishing alone.

Stanley Kabuye, the Bussi LC3 chairperson, Stanley Kabuye, said residents now know the purpose of conservation.

"The residents used to engage in capturing young fish and burning wetlands during dry seasons. However, today, they fight illegal fishing and protect the birds because they also work as guides when tourists come," he noted.

Richard Mabira, the Bussi sub-county chief, said they have 17 fish breeding zones on the four islands.

The district natural resources officer, Rebecca Ssabaganzi, said the FFI project was aimed at encouraging communities to conserve the natural resources if they (resources) have to help them improve their livelihood and attract tourists.

"They did not know what they have but now they are aware of the fauna and flora that exists. They have birds but do not know their names, yet people would like to come and see these things. So we want them to learn them and be guides. The good thing this island is near Entebbe Airport," Ssabaganzi added.