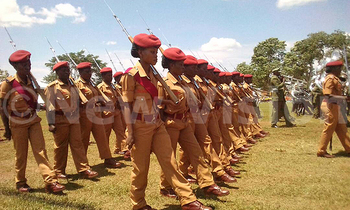 PIC: Prisons officers during a goose march during the International Women's Day Celebrations in Mityana. There have been no such celebrations in Teso, with some districts saying they had postponed the event. (Credit: Abou Kisige)

WOMEN'S DAY CELEBRATIONS

TESO - Districts in Teso region have foregone celebrating the International Women's Day due to financial and logistical challenges.

In Serere district, the LC5 chairman, Joseph Opit Okojo, said the district finance department did not budget for the day in time, saying they had decided to hold the celebrations next week on Thursday at Sabwa Primary School in Pingire sub-county.

Celebrations in Ngora district were suspended because the women had not been mobilised for the day.

The district speaker, Andrew Anapu Ojirot, told New Vision that the district had no money to mobilise the women.

The day was not celebrated in Kumi, districts either.

Meanwhile, in Soroti the celebration was postponed to march 15.

According to the Soroti LC5 chairperson, George William Egunyu, the district decided to postpone the day's celebrations to allow women travel to Mityana district for the national celebrations.

"We shall hold belated celebrations next Thursday at Gweri sub-county headquarters," Egunyu added.

Likewise, no Women's Day celebrations have been held in Katakwi, Kaberemaido and Amuria districts.