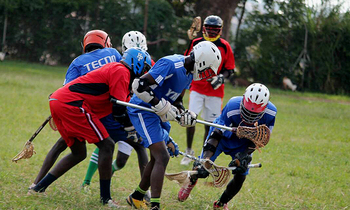 Uganda Lacrosse Girls
Championship
March 24

Women's lacrosse in Uganda presents a unique story of resilience. Caught often in the shadow of the men, the women are determined to offset this background.

With the help of Uganda Lacrosse Foundation an NGO based in the United States, the girls are chasing a dream appearance at the U-19 Girls' World Championships next year in Canada.

The association has set in motion preparations for the highly-billed event and in so doing, eight girls' schools are getting ready for the Uganda Lacrosse Girls Championship on March 24.

"We want to start early enough. The foundation is ready to assist and nonetheless we continue to seek local sponsorship," said Liberty Twesiime, Uganda Lacrosse publicist.

Kawanda SS will play host to Gayaza High School, Nabisunsa Girls' School, Mt St Mary's Namagunga, Canaan High School Lugazi, St Joseph Nsambya and Forest Hill College.

Meanwhile, Sasha Clark, the coach of St Joseph's Girls Nsambya believes her side is primed to win the championship.

She has overhauled the set up since taking over as coach last year.