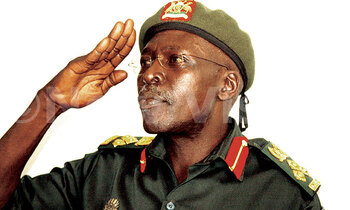 MILITARY | RANKS

KAMPALA - President Yoweri Museveni, the commander-in-chief of the armed forces, has promoted Kasirye Ggwanga from the rank of Brigadier to Major General.

The President has also approved the promotion of 1,609 other officers and militants to various ranks.

The promotions were approved on recommendation of the Commissions Board on March 3.

UPDF/defence spokesperson Brig. Richard Karemire confirmed the development.

"Congrats to all newly promoted UPDF officers and men.The country appreciates your contribution to peace and security. Aluta Continua," he tweeted on Monday.


Congrats to all newly promoted UPDF officers and men.The country appreciates your contribution to peace and security.Aluta Continua.

— Brig RichardKaremire (@UPDFspokespersn) March 5, 2018

According to the official statement indicating the reforms, outspoken Kasirye Ggwanga is to retire this year.

He had previously retired from the army, but later asked to return to active service, famously saying "I cannot handle civilian life".

The other most senior of the promoted lot include:


Brig Rwabantu to Maj Gen (Deputy General officer Commanding Reserves)

Col Charles Wacha to Brigadier (Director Human Rights)

Col Charles Byanyima to Brigadier (Commander Motorised Infantry Brigade)

Col Henry Isoke to Brigadier (Deputy CMI)

Col James Nambale to Brigadier (Adjutant General Headquarters)

Col Kagoro Asingura to Brigadier (Ministry of Defence & Veteran Affairs Legal Officer)