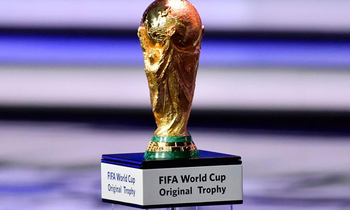 FIFA World Cup Trophy Tour
Kampala
Today
11am: Arrives at Entebbe
12pm: Visits State House
2pm: Coca-Cola (Namanve)
8pm: Serena (VIP)
Tomorrow: 10am-6pm
Lugogo

The eyes of football world will be on Uganda for the next two days.

The eyes of Ugandans will be on the 6kg, 37cm golden masterpiece that's the FIFA World Cup trophy.

After traversing 49 cities in 34 countries around the globe, the FIFA World Cup trophy is once again back in Uganda. It was first here nine years ago in the lead up to the 2010 World Cup in South Africa.

This time it is in the build-up to the Russian edition, due later this year. Uganda is not among the 32 World Cup finalists but it is among the 51 countries on the World Cup trophy tour that began in Russia in September 2017 and spent 78 days visiting 16 cities.

It was then followed by commencement of the international leg, starting in the city of London. The trophy arrived in Africa on Feb 22 in Khartoum and still on the continent until March 16, covering 10 nations.

Uganda's football-mad populace will long remember this tour, which will have as its highlight tomorrow's trophy display at Lugogo cricket oval.

As a country that has never won the World Cup, only one Ugandan will be allowed to touch the trophy - that is, President Yoweri Museveni, who will receive it today at 12pm at State House Entebbe.

The trophy will then be taken to the Coca Cola plant in Namanve at 2pm and will wind up the day at the VIP affair at the Serena Hotel Kampala at 8pm.

As many as 30, 000 people are expected to attend tomorrow's public display where admission is via the purchase of one 350ml Coke.

This is the fourth World Cup trophy tour, with the first coming in the lead up to the 2006 World Cup in Germany. The tour is run in association with long-term FIFA partners Coca Cola and is aimed at bringing to football fans an experience that would otherwise only be possible with a trip to the FIFA museum in Zurich, Switzerland.

The trophy tour is touted as a memorable adventure for football fanatics worldwide and it is time for the Ugandan base to enjoy.