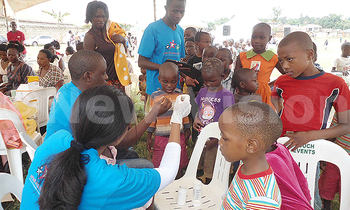 PIC: The cordinator of opar foundation shantel pater giving dewarmers to kids of Lukuli Konge during the health camp. (Credit: Agnes Nantambi)

HEALTH

KAMPALA - Over 600 people residing in Lukuli, Konge in Makindye division, have received free treatment for various diseases.

The treatment was given under a health camp organised by the International Medical Foundation (IMF) in collaboration with the Opar Foundation and ABi clinic, among others.

Speaking during the camp, the chairman Nsereko zone, Lukuli Konge parish in Makindye division, Lutwama Stephen, decried Kampala Capital City Authority's (KCCA) failure to work on the drainages in the area.

"The drainages are blocked, which results in stagnation of water, creating a breeding place for mosquitoes which cause malaria," he said.

Lutwama said due to such problems, the leadership of the area approached International Hospital Kampala, together with its partners, to offer free treatment.

Lutwama commended President Yoweri Museveni for the mosquito nets campaign, which he said will save many families from contracting Malaria.

The medical camp, offered healthcare for HIV/AIDS, tuberculosis, cervical cancer and screening for the eyes, teeth and Hepatitis B screening, among others.
A nurse and the the cordinator of opar foundation Shantel patel testing the ear of a child in Lukuli Konge during the health camp. (Credit: Agnes Nantambi)

Shante Patel, the founder of Opar Foundation, an organisation advocating for improved lives for children said children is slums are forgotten, yet they deserve the best health services.

"We partnered with IMF in this health camp to ensure that we provide the children the best of what they need, including testing their ears, eyes, deworm them and feed them," Patel said.

He said the camp was the first one to conduct heart examinations, where different people's hearts were tested and people given drugs.

Ruth Nalunga, the manager IMF said they chose to sponsor the camp because of the vulnerable people in the area.

"We gave a couple of services, these people some sometimes go to public health centers, where they rarely get the best services because sometimes the drugs are not readily available," she said.

Commenting on the ban of health camps by the health ministry, Nalunga said the foundation follows the rules governing the medical camps, where health experts are deployed to handle complicated cases.